Will Investors Put the Lid on the Container Store's Generous Wages?
CEO Kip Tindell's brand of "conscious capitalism" is being tested in the face of a plunging share price
By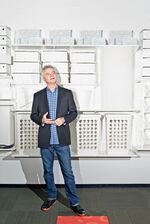 A few years ago, Kip Tindell found himself at a crossroads. Tindell is chief executive officer of the Container Store, the retail company he co-founded in Dallas in 1978. He's worked with his wife, Sharon, the entire time, and many other executives have been there for decades, too. Tindell likes to fly-fish and daydream. He's slow-twitch.
Tindell's ambitions had grown over time. He realized the Container Store, which had been operating in big metropolitan areas, could expand into smaller cities. He also wanted to offer more employees stock in the company. But he was conflicted. "There are only a few things you can do to finance that," he says. "My dad did not leave me $3 billion."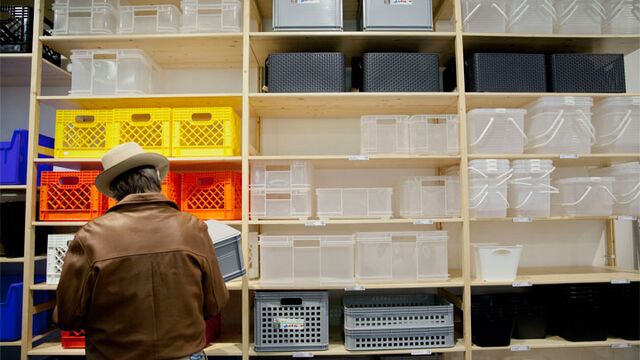 The private equity firm Leonard Green & Partners, which bought a majority stake in the Container Store in 2007, let Tindell run the company as he saw fit. Looking for another private equity firm as compatible as Leonard Green would be difficult. "How are we going to find another one that can deal with us?" he wondered. He didn't want to take on more debt. He ruled out selling the company. "You subjugate your brand and management team, and that's not good," he says. He decided the best option was to take the Container Store public.
Tindell began promoting the company to potential investors in October 2013. "Hopefully we'll get along well with our shareholders," he told his executives. "We like the longer-term ones better than the shorter-term ones." The Container Store's stock began trading on the New York Stock Exchange on Nov. 1 of that year. "I was the guy on the floor who wasn't smiling when the stock price doubled the first day," he says. The demands of leading a public company were so intense, he adds, that a few months later he came down with pneumonia.

The Container Store's sales grew 5.9 percent, to almost $750 million, in its last full fiscal year, which ended March 1, 2014. (It will report its 2014 fiscal year results in April and estimates net sales of $785 million to $795 million and adjusted earnings of $93 million to $96 million.) It has 70 locations in 26 states and about 5,000 employees. It sells 271 kinds of containers for storing food, 77 different hangers, and 57 items to manage power cords. The company hasn't always been profitable, but it has grown steadily for more than three decades and outlasted all imitators. Its promise is almost existential: an uncluttered life in an otherwise messy world. Tindell says the Container Store eventually could quadruple its number of locations in the U.S., to 300.
Tindell's personal philosophy, which he refers to as the Foundation Principles (he trademarked the name), is crucial to the company's identity. He adheres to a model for conducting business without any trade-offs: Pay employees well and treat them with respect; consider suppliers and customers as family; have fun. Sixteen hundred of the Container Store's employees work full-time in the stores. They receive 263 hours of training their first year, much of it on the job. Store employees earn an average of $48,000 a year, about twice the typical retail salary, and executives are also nicely compensated. The annual turnover rate among store employees is 10 percent, very low for retail.
John Mackey, a college friend of Tindell's who co-founded Whole Foods Market with a similar perspective on business, calls this conscious capitalism. Companies that practice conscious capitalism are supposed to have a higher purpose. Costco aspires to this ethic, as do public companies such as Zappos.com, Starbucks, and Southwest Airlines. "I enjoy making money for myself and the people around me," Tindell says. "I'm not saying this is the only way to make money. I'm saying this is the best way."
For a while, Tindell seemed to have found the perfect balance between virtue and profitability. The Container Store's share price closed at $36 that first day of trading. By early January 2014 it was near $46. Since then, as sales at established stores have consistently, though modestly, declined below the company's estimates, the stock has plummeted. In October, just as Tindell's book, Uncontainable: How Passion, Commitment, and Conscious Capitalism Built a Business Where Everyone Thrives, was published, the company trimmed its sales and profit forecast. The stock dropped 25 percent. In January the company reported that comparable-store sales fell 3.5 percent from Sept. 1 to Nov. 30, while online sales increased 13 percent. The next day the stock dropped 15 percent to about $18. Currently it's trading close to $20.
The Container Store's weak sales since its initial public offering could be an unfortunate but temporary problem. Even so, they raise questions about whether a company that aspires to benefit everyone can keep its shareholders happy, too: Does the company need to change, or do the shareholders? "It's been wonderful and terrible and good and bad," Tindell says of leading a public company. "It's a little more emotional than I thought it would be. It's like they're talking about your daughter. For the first time in my life, I have people saying, 'I don't like this.' If we were private, it would be fun to work on getting sales up. It's less fun because investors want you to do it in one quarter."
 
 
The Container Store headquarters is in an industrial area near the Dallas-Fort Worth airport, past the Hard Eight BBQ restaurant and across the street from an Amazon.com warehouse. Its 1.1 million-square-foot warehouse is linked to the corporate offices. Everyone eats at the company-subsidized Gumby Café. Gumby, the flexible green toy, is the company mascot. "Be really Gumby" is one of its mottoes. Lake Tindell, built near the parking lot, is filled with bass and open to the public, though in early February the landscape is bleak and no one's there.

Tindell, 62, wears a crisp navy-blue shirt with polka dots, jeans cuffed the way Mickey Drexler at J.Crew told him to, and Toms Shoes. He's tall and trim; he took up yoga after the bout of pneumonia. "It felt a little mortal," he says. He meditates now, too.
His office is furnished in royal blue, yellow, and bright red, the Container Store's colors. There's no paper on his desk. Everything is filed away in red boxes. "There's a Zen quality to being organized," he says. "I used to be afraid to say that. You have no choice but to be reasonably well organized to get half the things done you want to."
Tindell himself is very busy these days. The company is introducing custom-order closets as well as a home-organization service, and it plans to open 10 stores this year, the most ever. He's genial but also seems slightly agitated. He twirls a pen throughout the interview. "I've worked as many hours this past year as when we started," he says. He doesn't get to spend much time with friends or the rest of his family. (Sharon is the chief merchandising officer and works down the hall.) He also doesn't get to go fly-fishing as much as he used to: "Last year I fished only twice. That's not acceptable."
Tindell doesn't apologize for his desire for order, or at least as little disorder as possible. "If your house is unbelievably messy, I probably won't come back to visit. I'll meet you at a restaurant. I'm just not comfortable around mess. You don't have to be obsessive-compulsive about it. Well, OK, maybe just a tiny bit." As a kid, he would reorganize the pantry and linen closet when his parents were out of the house. His first job in retail was in a paint store; his supervisor, Garrett Boone, would become his business partner.
Tindell had a lot of fun at the University of Texas at Austin, where he spent a good part of the 1970s. His parents stopped paying his tuition after six years, and he returned home to Dallas in 1977 without a degree. The next year he and Boone opened the first Container Store: 800 kinds of boxes, trunks, bins, and more in a 1,600-square-foot space in a Dallas shopping center.
The store was profitable within months. It offered clear and colored plastic boxes, made by the California manufacturer AMAC Plastic Products, for everyday storage. A favorite of artists, the original boxes are part of the permanent collection at the Museum of Modern Art. Salespeople were taught to show how a product meant to hold cookie sheets could also be used to organize puzzles and files. The company introduced the Swedish Elfa closets, which are designed in the store and built at home. The closets and shelves became its best-selling, highest-margin products.
The Container Store always paid well and shared information with employees about its finances. From the start, Tindell and Boone talked about creating long-term, mutually beneficial relationships with customers and suppliers. Staff were encouraged to recruit family, friends, customers. "I always think about this girl in fifth grade. She was the coolest girl, and she liked me. It really made me want to go to school every day," he says. "There doesn't have to be that chemistry in the workplace, but we want people to adore their colleagues."

He and Boone didn't open a second store until 1981, when sales passed $1.5 million and they had the money to do so. Over the next six years they opened four more in Austin, Dallas, and San Antonio. The opening of the seventh Container Store, in Houston in 1988, was a turning point. The store was located in an exclusive neighborhood across the street from one of the country's busiest malls. The manager, Amy Carovillano, was unprepared for the crowds. She had to quickly hire people and put them to work without any training. The store was a mess, and she was a wreck.
Tindell grabbed his Philosophy Epistle File, quotes and anecdotes he'd been collecting since high school, and headed to Houston. The talk he gave to the employees was the first that made explicit his business principles. A picture of the employees huddled in Carovillano's living room hangs on a wall of the Gumby Café. (Carovillano now oversees the distribution center.)


These days full-time employees receive a week of training in Tindell's seven Foundation Principles. There's some Andrew Carnegie, and Dale Carnegie, too. Among them are: One great person equals three good people. Fill the other guy's basket to the brim. (Making money then becomes an easy proposition.) Another principle is called Man in the Desert Selling: Sales staff are taught that customers usually need more than they think they do—not just the metaphorical glass of water, but sunscreen and a hat. No one ever asks: "How are you?" or "Looking for anything in particular?" They ask: "What space are you trying to organize?" The principles have been printed on shopping bags and T-shirts and packing tape. The conference rooms at the headquarters are named after them.
The Container Store stocks about 10,000 items: The average price is $8, and 80 percent of what it sells costs less than $20. An Elfa master closet, though, can sell for $2,000. The typical customer is female, spends $60 a visit, is well-off (with an average household income of $110,000), and has a college degree. "The more highly educated the person is, by far the better customer they are," Tindell says. Thirty percent of the customers shop four times a year and account for 83 percent of sales. The company has started offering them special discounts, product previews, and "hugs" (literal and symbolic) to encourage them to come in more often. "We're selling empty boxes," says Tindell. "We need a better-educated, motivated, and trained employee to get a customer to buy 12 items to organize that toy area instead of just one."
People can buy empty boxes at Target, Walmart, and Amazon.com, too. The Container Store has to offer premium items that aren't available elsewhere—it says half its products are exclusive—with extra-attentive service. "If you pay your people well, you have to charge a healthy amount for the product," says Matt Nemer, managing director of equity research at Wells Fargo Securities. "It's Walmart in reverse."
That's one reason the Container Store works so closely with its suppliers and why Sharon reviews each product that goes into the stores. "Conscious capitalism is not a magical formula," says Kip. "You can have the right philosophy and the wrong product."
Every morning at the Container Store begins with a huddle. In the stores, the manager announces the sales goals and Foundation Principle for the day. Staff can see minute-by-minute status reports across all stores in their area, and if they're not keeping up, the manager will coach them. Almost 12 percent of sales go toward salaries, far more than at most retailers. The Container Store gives annual raises of as much as 8 percent. Managers consider how cooperative employees are, how much responsibility they take, how much energy they have. "It shouldn't work, but it does," says John Thrailkill, who oversees store systems. "We spend a ton of time on this." Melissa Reiff, the chief operating officer, reviews every pay increase. It's the first thing she does each morning.
The distribution center also has its own metrics. "That's not counter to our culture, that's essential to it," says Carovillano. "We're very competitive, in a good way." The 350 or so workers she oversees are expected to do more than just make their numbers. "We want them to do that and help everyone else, help us run our business, be engaged, speak up in huddle," she says.
It's not for everyone: New employees figure that out pretty quickly, then they leave. Carovillano describes the management style as parental. "We push them a little and pull them a little and love them the whole way," she says. "You have to be in a very secure place yourself to start loving your employees. It's much easier to bark orders. Instead we go, 'Hey, we have a big day, and here's what we have to do.' "
Tindell renamed Valentine's Day "We Love Our Employees Day." "We bring chocolates, gifts, tell them we love them. We hug," says Carovillano. There's an annual chili cook-off and distribution center derby. When there's news to celebrate, Kip, Sharon, and Reiff gather everyone in the atrium at headquarters. There are games and snacks and confetti—lots of confetti.
Tindell believes that recognizing people's efforts makes them happier and more fulfilled, which benefits their families and communities. He often refers to psychologist Abraham Maslow's hierarchy of needs. "My employees advance on Maslow's hierarchy," he says. "I didn't think about this when we started out. But it's the most powerful thing you can do. Then the universe conspires to assist you."
 
 
Well, not always. After two tough years during the recession in 2008 and 2009, sales at established stores increased for three consecutive years. Since the 2013 IPO, though, the company has suffered from a combination of bad luck, inadequate planning, and unrealistic expectations.

In the winter of 2014, when the company held its annual Elfa closet sale, the numbers weren't as good as predicted. Tindell blamed bad weather. Then sales declined 0.8 percent in the spring. This time he said the problem wasn't just the weather. The Container Store and other chains were in what he called a "retail funk." People were shopping less, and other companies were discounting more. Tindell can't drastically lower prices without destroying his business model. Instead, he has to persuade customers to come into the stores and his best customers to buy more.
Tindell held out the promise of the Contained Home, the home-organization service, and the premium TCS closets, which he calls the most significant merchandising initiative in the company's history. He says he should have introduced them sooner; now he has to explain why he can't do so faster. "There are plenty of big important investors who want us to roll out TCS closets in 15 minutes," he says. "It would fail if we did. It's really complicated."
After poor sales last summer, "Kip got beat up verbally, but clearly he should have seen it coming," says Rob Wilson, the founder of Tiburon Research Group. "This is how the game works." In October the hedge fund Apex Capital increased its stake; it now owns 4.5 percent. (Leonard Green has a 57 percent stake, and the Tindells own almost 7 percent.) Apex urged the company to accelerate store growth, boost margins, and better control costs. "We're actively engaged in suggestivism," the founder of the fund, Sandy Colen, told Bloomberg News.
"Business doesn't go like this," Tindell says, drawing a 45-degree line upward. "It goes like this"—he draws an upward spiral. The Container Store has gone through slow cycles before, he says. "Then we go nuts, turn over every stone, and find 37 little things we can do better and a few big things."
The Contained Home service, with the service itself provided by professional organizers, is available in 29 stores and will be in all of them by December. The average price is $2,000 per home. The TCS closets have been selling for about twice that on average, though they've been available only since November in seven stores in the Dallas area. It's hard to know how they'll do elsewhere, and it will take time to find out. Tindell expects the closets to be sold in every store by the end of the year.
"These initiatives will be so overwhelmingly successful that they'll cure all our inadequacies, and our shareholders will be ecstatic," he says. He seems to have convinced one, Apex's Colen, who says TCS closets should boost margins and earnings. Tindell says the benefits should last at least three years. "Then we have to come up with the next big hairy initiative."
Amid the slowdown, Tindell and Reiff have been trimming costs, though not salaries, and looking for other ways to increase productivity in the stores. They recently extended the Elfa sale by three weeks. The company's gross profit margin is still high—almost 59 percent. If sales don't improve, though, Tindell will be in a difficult position. His principles won't substitute for a better plan. "Being public makes practicing conscious capitalism a little more challenging for any company. It's a test of the philosophy," says Raj Sisodia, a Babson College professor who, with Mackey of Whole Foods and others, started a nonprofit dedicated to conscious capitalism. He joined the Container Store's board of directors in 2013.

Growth presents challenges, too. While the company has opened 70 stores since 1978, it expects to open 10 over the next year, including one that it's relocating. Tindell has promised to increase square footage by at least 12 percent a year, but hasn't said for how long. (Stores are roughly 25,000 square feet each.) It's also possible that the impulse, and the means, to organize a home isn't as strong in the less affluent cities and suburbs where the company is expanding. "The formula is changing," says Nemer of Wells Fargo. "The Container Store used to have slow, controlled growth; they waited for the best locations and the best people. Now the risk profile is going up as they move faster. That's a function of being public."
Most executives who practice conscious capitalism confront the tension between those measuring in months and those measuring in years. "It is harder for public companies to continue to take care of employees because of short-term pressure," says Zeynep Ton, an adjunct associate professor at Massachusetts Institute of Technology and author of The Good Jobs Strategy. "The founder is in a better position than anyone else to say this is what our business is about, this is what we won't give up. They have to stick to their values 100 percent of the time, not 95 percent of the time."
"A good capitalist will see the value of what we're doing," Tindell says. "We would not be as profitable if we did less for our employees and vendors." But some capitalists are cantankerous, he's found, and he's trying not to take it personally. "Even if someone is shorting your stock, you can learn from them if you can keep your ego in check," he says. Later in the conversation, he notes that although investors know more about his business than they used to, they don't know as much as they think they do.
Jim Sinegal, the co-founder of Costco, spoke with Tindell about dealing with short-term investors. His advice: Don't run your business for them. He believes companies eventually get the shareholders they deserve. "We value our long-term shareholders. But we didn't have them right away," says Sinegal. "We had to prove ourselves, and rightfully so. You have to produce."
Sinegal also told Tindell not to pay attention to the stock price for the first 10 years. Tindell has found it difficult to heed that advice. He describes a troubling encounter with an investor who'd bought Container Store stock near its peak and was worried about paying for her daughter's private school tuition. "What could I say? I wanted to say: 'Did you know it was selling at 170 times earnings?' But that would be cruel. So I hugged her."
After our conversation, Tindell flew to Mackey's ranch outside Austin for a weekend meeting with other conscious capitalists. The prospect seemed to cheer him. "I am a little surprised that human beings can be so impatient," he says. "If you retrieve your lure too fast you'll never catch any fish. It's stunning how slow you have to go. If you think you're fishing slowly enough, fish half again slower, and you'll catch many more."
(Correction: The deck on the online story has been updated to reflect the Container Store's financial performance. The number of states in which the company operates has been updated to reflect changed information provided by the company.) 
Before it's here, it's on the Bloomberg Terminal.
LEARN MORE