politics
Citing Clinton Ties, Conservative Group Deems Jeb Bush 'Unelectable'
"We are united by a love of country and public service," the Republican said at an event in 2013.
By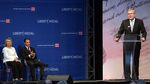 A conservative group with a large online following called Jeb Bush "unelectable" on Thursday because of a public appearance he made with Hillary Clinton two years ago.
ForAmerica, the group led by activist Brent Bozell with more than 7 million fans on Facebook, posted a video to its page of Bush thanking Clinton for her public service. The speech was at an event in 2013 when Clinton received an award from the National Constitution Center. At the time, Bush was the organization's board chairman. Former President Bill Clinton is a past chairman.
"We are united by a love of country and public service," Bush says in the video. 
ForAmerica noted the event took place around the first anniversary of the Benghazi attacks. "It's bad enough that Hillary Clinton will likely use footage from this event against any Republican nominee, but if Jeb Bush is her opponent she will make him look ridiculous," Bozell said in a statement. 
Bush's PAC, Right to Rise, declined to comment.
Before it's here, it's on the Bloomberg Terminal.
LEARN MORE