Chaos of Libya May Derail Islamic State's Plan to Expand
Tarek El-Tablawy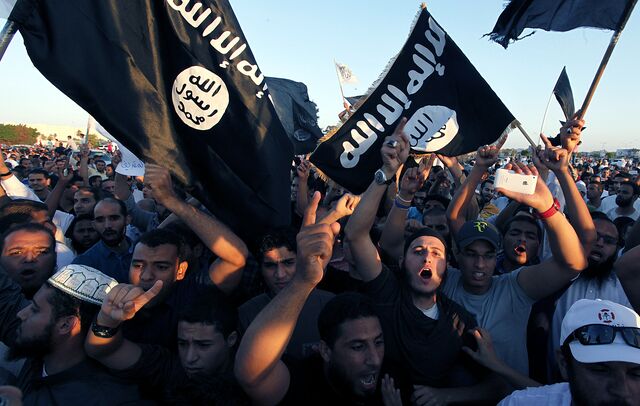 In the slick video, the masked insurgent speaking English summed it up before the decapitation of the Egyptian Coptic Christian hostages.
"Today, we are on the south of Rome, on the land of Islam -- Libya -- sending another message," he said in the video released Feb. 15. "O Crusaders, safety for you will be only wishes."
The brutality and swagger combined with the chaos of Libya have produced concerns that Islamic State will use its new base there to expand across North Africa and even into Europe. Libya's competing militias, convoluted politics and the fight for its oil reserves could make it harder to achieve those goals than the al-Qaeda breakaway group realizes, analysts say.
"I don't think ISIS has any room for expansion in Libya," Riccardo Fabiani, North Africa analyst with the Eurasia Group, said by phone from London, using the acronym for the broader Islamic State group. "We're probably going to see a concerted action to defeat them in the next few weeks."
More than three years after NATO-led airstrikes helped end Muammar al-Qaddafi's four-decade autocratic rule, the crisis in the holder of Africa's largest oil reserves is posing a threat to its neighbors as well as European interests. The turmoil has left the country divided between two rival governments, each with its own parliament and security forces. Other militias are also competing for power and oil wealth.
Oil Output
Violence has battered oil output. Production fell to 350,000 barrels a day in January, compared with 1.6 million barrels a day before Qaddafi was toppled, a spokesman for Libya's National Oil company said this month.
The beheading of the 21 Coptic Christians triggered Egyptian airstrikes on Derna, Islamic State's stronghold in eastern Libya. Egypt also called on the United Nations to authorize intervention in its western neighbor, an appeal that resonated with Italy, Libya's former colonial ruler and whose oil company Eni SpA is the country's biggest foreign producer.
Within Libya, the government in Tobruk headed by Prime Minister Abdullah Al-Thinni and its Islamist rival in Tripoli say they will do everything in their power to stop Islamic State. The Islamists have called on allied militias to retake the central coastal city of Sirte, parts of which Islamic State had seized.
Islamic State in Libya is unlikely to make the same kinds of inroads into securing oil assets that it achieved in Iraq or Syria, analysts say. Given oil's importance to Libya's battered economy, neither the Islamist government nor the army is likely to allow the group to seize fields or exports ports.
'Local Groups'
Islamic State "would be resisted pretty hard by local groups if they tried to take the energy infrastructure," Geoffrey Howard, lead North Africa analyst with Control Risk Group, said by phone from London.
Libya's neighbors, which had long seen its stunted transition as a national security risk, are also stepping up.
For Egypt, the threat is perhaps most palpable. Struggling to recover from more than three years of turmoil after the 2011 uprising against Hosni Mubarak, the country is facing its own militant threat, including groups allied to Islamic State.
In Tunisia, concerns abound about allegiances between small militant movements there and the al-Qaeda breakaway group. In response, the government has deployed forces along the border with Libya. Helicopters and fighter jets are conducting reconnaissance missions to monitor the area.
Missing Elements
The group's objectives and operations in Libya may also be different from that of its parent in Iraq and Syria. The movement's success in those two countries, where it first surfaced, hinged on capitalizing on sectarian rivalries and finding support from Sunni sympathizers.
Those elements are missing in Libya, where the tribal and militia rivalries are defined by historical divides and a scramble for a share of oil wealth, rather than along Sunni and Shiite lines.
"There's a myriad of local armed groups, split along a number of lines," Howard said. "These groups will have their own interests and agendas and will be likely to resist any widespread" Islamic State takeover.
Libya's chaotic post-Qaddafi transition may be the determining factor in whether Islamic State succeeds in the North African country.
Islamists, who had secured a hold in 2012 parliamentary elections, refused to accept defeat in elections last year. While secular-leaning politicians and nationalists prevailed in the latest vote, the Islamists resurrected what was to be the defunct General National Congress. Backing them were powerful militias like those from Misrata, Libya's third largest city, which had played a key role in Qaddafi's ouster and killing.
Libya Dawn
Fighting between the Libya Dawn, which backs the Islamists, and forces loyal to the elected government, has left hundreds dead, thousands more displaced. The Islamists launched their first air strike on Zintan, the Libya Herald reported Feb. 17, targeting a city whose militia stands opposed to the Misratans. The move could undercut United Nations-hosted talks aimed at stabilizing Libya.
Some analysts say the failure of any single single force to dominate in Libya could, in the end, provide Islamic State with an opportunity.
It was in the tug-of-war for control, that the Islamic State took root, finding support from extremists like Ansar al-Sharia in Benghazi and drawing in scores of foreign fighters. Along with Sirte and Derna, the group has also established itself in Sabratha, in the west.
"Ultimately, the Islamic State would want to use Libya as a staging ground for attacks in nearby countries," Firas Abi Ali, an analyst at IHS, said in a Feb. 16 report. "This is not necessarily dependent on the group controlling territory in the country, which is the group's aspirational objective, but on ensuring that no single actor can challenge" it.
Before it's here, it's on the Bloomberg Terminal.
LEARN MORE