The Magazine Trying to Bring the Web's Cat Obsession Offline
A new front in the cat content wars
By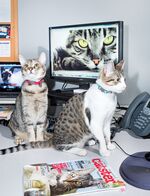 It's bring-your-pet-to-work Friday at the Irvine (Calif.) headquarters of Catster and Dogster magazines. Snicker the goldendoodle is sniffing a corner. A black lab named Carl strides through the newsroom. But the star today is Buster, a speckled rescue cat chosen to model for a "Catify Your Cubicle" photo shoot. Buster blinks at the flashbulbs from atop his catified set, surrounded by a cat mug, a cat calendar, and a plaque that says, "You had me at meow." The idea, editorial director Melissa Kauffman explains, is to portray cat owners as young and fun. "If Taylor Swift can be a cat lady, so can anyone," she says.
For two decades, this had been the office of Cat Fancy and Dog Fancy magazines. Now the oldest pet titles in the country are in the midst of a rebirth. In 2013, BowTie, the company that owned them, was bought by I-5 Publishing for about $10 million. (The sale included 15 additional magazines, including Horse Illustrated and Reptiles.) I-5's co-founders, Mark Harris and David Fry, originally planned to reinvigorate the existing cat and dog titles. That changed course last July, when they discovered two peppy websites called Catster.com and Dogster.com. They bought those, too, for an undisclosed amount from digital content company Say Media. In December, Harris and Fry, who have no history in pet publishing, announced they had a new vision: I-5 would launch Catster and Dogster in print and kill off the Fancy titles for good.

From its first issue, published in 1965, Cat Fancy relayed news about pet health care and cat shows in genial schoolmarmish detail, with headlines like "9 Steps to Successfully Brushing Kitty's Teeth." Its covers featured purebred Persians and slim Abyssinians stretching their necks. The vibe veered on snobby, with a focus on breeding and pedigree. They were aimed, Fry says, "at the 1 Percenters of pet owners." Unlike actual 1 Percenters, the magazines had begun to flounder. "The trend lines were not good for many years," says an I-5 spokesperson. Circulation for both titles combined was stuck at about 160,000 readers.
The Catster and Dogster websites, meanwhile, were blowing up. Since their launch in 2004, they'd grown to a combined 3 million readers a month, according to Say Media, and had a community of more than 1 million registered users. They published stories such as "Cats Liking Ducks Is Apparently a Thing" and personal essays like "I Met Grumpy Cat, and Now My Life Is Complete!" referring to the feline with the sour mien who went viral and made her owner rich. Grumpy Cat, Fry says, is exactly the kind of strange-looking beast that would have been forbidden in Cat Fancy. I-5's pet magazines, Harris and Fry decided, should be for mutts and mongrels, for rescue cats and lolcats.
This is, after all, a bold new age of pet obsession. The sum Americans spend on their animals has almost quadrupled over the past two decades, to an estimated $58.81 billion in 2014, as measured by the American Pet Products Association. More than 60 percent of households in the country have at least one creature living with them, according to the Humane Society of the United States. "People are nuts about their animals today," Fry says.
Felines, in particular, have a thriving fan base. They've become the avatar of the Internet, the anthropomorphized center of its weird, neurotic heart. According to a recent study by Friskies, cats drive almost 15 percent of all Web traffic. There are about 30 million Google searches per month for "cat." And Catster.com's competition is fierce: The pioneering kitty-humor website icanhas.cheezburger.com gets about 1.5 million visitors a month, according to Alexa Internet, a Web research firm. "Cat Fancy used to be the only place you could go to get the end-all and be-all on cute cats," says Ben Lashes, the agent of Grumpy Cat. "Now everybody has to compete with the BuzzFeeds of the world. Even CNN does stories on Internet cats."
After I-5 merged Catster and Dogster with Cat Fancy, some magazine employees lost their jobs. The relationship between the two staffs has occasionally been tense. One day in December the teams gathered to discuss whether to cover a news story in which a family had locked themselves in a bedroom because their cat was attacking them. "The kid had kicked the cat," says Janine Kahn, the new magazines' executive editorial director for digital. "And the Cat Fancy people said, 'We don't want to run this story, because we don't talk about it when someone mistreats a cat.' " The Catster people eventually won out. "I was, like, it's news," Kahn says.
Kahn is, in most ways, the reader I-5 wants. She's a 30-year-old University of Southern California grad with statement glasses and arty tattoos—four of which feature her Italian greyhound, Mr. Moxie. "Cat Fancy wasn't something I subscribed to," she says. "I just assumed it wasn't for me." While the average reader of Cat Fancy was a woman in her late 40s with an income of $50,000, according to Fry, the average Catster.com reader is a 35-year-old female with a household income of about $100,000.

I-5 is shooting for Catster to reach 200,000 print readers by the end of 2015. To get there, it will have to retain most of Cat Fancy's base. Cat Fancy and Dog Fancy were both monthlies, but Catster and Dogster will alternate months. A six-issue subscription to one of the magazines costs $24.95. They'll have higher quality paper, binding, and photography—which I-5 hopes will attract more advertisers, too. This spring, they'll be sold on newsstands at national chains such as Barnes & Noble and Walmart.
Inside each issue, there will be pets posing on city streets, like the street-style photographs in mainstream fashion magazines, and plenty of first-person adventure stories. One feature is about driving up the California coast to visit three cat cafes in three days. "I feel like we already had the Middle America market cornered," Kahn says. "So I'm definitely interested in trying to reach the urban set."

The new staff has little in common with Cat Fancy's audience. Kauffman, the editorial director, has blunt-cut blond hair and pink earrings and previously worked at Bird Talk magazine before overseeing digital for all I-5 brands. She lives across the country, in Charlotte, with her husband, two parrots, and two mixed hounds.
One concern, she says, is ensuring the new Catster feels "authoritative enough" to appeal to former readers. For a touch of gravitas, Susan Logan, the longtime Cat Fancy editor whom Kauffman replaced, was kept on as a freelance writer. (Her first piece is a how-to guide for the allergic person who lives with cats.) "I think the biggest difference will be the tone—from more serious, like Time magazine, to more fun, like Internet cats themselves," Logan says.
Back in the office, after the staff finishes the "Catify Your Cubicle" shoot, they meet to discuss the first issue of Catster, which comes out in March. In one room, two cats sitting on a desk chair look at a computer screen so intensely they could be working on a spreadsheet. Pinned on a wall in the conference room are mock-ups of the first issue of Dogster—playful snaps of dogs in top hats and tiny sombreros. Kauffman's face appears via Google Hangouts on a large, wall-mounted screen as seven staffers gather around. "Let's talk about some ideas that could be tweaked to go from online to print," she begins.

"Wedding announcements featuring cats?" one editor offers.
"Pictures of kittens trying to look like grown-up cats?" another calls out.
"Those photos of adults re-creating childhood photos are always on Reddit," Kauffman suggests. "We could do a twist on that." An appreciative "ooooh" moves through the room. "Snicker!" Kauffman calls from the screen. "Bark if you don't agree."
Before it's here, it's on the Bloomberg Terminal.
LEARN MORE