Both Sides of the Gun Debate Are Now Trying to Protect Women
Newly proposed gun laws are using domestic violence and campus sexual assault to push laws restricting and expanding firearms access.
By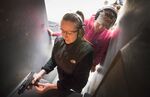 What do gun rights activists working to get firearms on campus have in common with the gun control activists campaigning to keep guns away from potentially dangerous individuals? Both are using women's issues to promote new gun legislation.