Both Sides of the Gun Debate Are Now Trying to Protect Women
Newly proposed gun laws are using domestic violence and campus sexual assault to push laws restricting and expanding firearms access.
By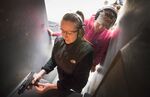 What do gun rights activists working to get firearms on campus have in common with the gun control activists campaigning to keep guns away from potentially dangerous individuals? Both are using women's issues to promote new gun legislation. 
Across the country, gun control groups are working to pass laws preventing domestic abusers from owning weapons, while gun rights activists are arguing that guns on campus would protect women from sexual assault.
According to the Wall Street Journal, at least 12 states, including South Carolina, Arizona, and Missouri, are considering laws that "would make it harder for people accused or convicted of domestic-violence charges to get or keep a firearm." The effort is being led by former Arizona Representative Gabrielle Giffords' Americans for Responsible Solutions and Everytown for Gun Safety (backed by former New York Mayor Michael Bloomberg, founder and majority owner of Bloomberg Politics parent company Bloomberg LP). 
Gun rights activists argue that there is already a law—the 1996 Lautenberg Amendment to the Federal Gun Control Act—that prevents abusers from owning guns. But as the Huffington Post reported last year, there are several loopholes to that amendment: It doesn't apply to dating partners or people under temporary restraining orders (another point of contention with gun rights groups). 
On college campuses, groups like Students for Concealed Carry are using the new attention to campus sexual assault to argue that armed women might be a solution. According to the New York Times, at least 10 states are working on bills to make it ease or repeal on-campus concealed carry laws, and in several cases lawmakers are arguing that it could prevent rapes. 
"If these young, hot little girls on campus have a firearm, I wonder how many men will want to assault them," Michele Fiore, a Nevada Assemblywoman who sponsored that state's bill, told the Times. "The sexual assaults that are occurring would go down once these sexual predators get a bullet in their head."
Critics of the campus sexual assault/campus carry argument say that the solution misunderstands the way campus assaults work—most victims know their assailants, and colleges have large binge drinking cultures. 
In Florida, the Senate's Criminal Justice Committee approved a campus carry bill, despite objections from Democrats and some professors. "Proponents will tell you that allowing conceal carry will protect female students from sexual assault," Marjorie Sanfilippo, a professor at Florida's Eckerd College, told the committee. "I will point out the obvious; you'll be arming the assailants, too."