Watch Out for That Truck!
A change in fuel standards has led to even heavier, more dangerous pickups
By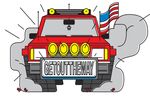 Last July 7 a Nissan Titan pickup truck traveling on a state highway south of Tivoli, Texas, collided head-on with a Honda Civic. All the occupants in both vehicles were wearing seat belts, police said. But the pickup truck, weighing about 5,000 pounds, had physics on its side. The five occupants of the Titan escaped with injuries, but all four occupants of the Civic, which weighs about 2,700 pounds, were killed.
Drivers of passenger cars had nothing in particular to fear from pickup trucks back in 1975, the year Congress passed the Corporate Average Fuel Economy (CAFE) law, which imposed mandatory mileage requirements on carmakers. Then the two classes of vehicles weighed about the same. As recently as 2000, the weight gap was less than 1,000 pounds. By the 2014 model year, however, the difference had grown to almost 2,000 pounds, according to an October report by the Environmental Protection Agency. The average weight of pickups has risen about 26 percent since 2000 even as the other two types of vehicles classified as light trucks—sport-utility vehicles and minivans—have stayed basically the same weight, the EPA says.
What explains the rise of the XXL pickup? Customer demand, for one. You can't carry a load of plywood or tow a trailer home with a Ford Focus. And the comforts of tricked-out models such as the Ford F-150 King Ranch, with heated and cooled front seats, are unbeatable. Recently, cheap fuel has also helped prompt consumers to buy bigger.

For the past few years, a quirk in federal policy has made it easy for Americans to keep supersizing their rides: Under CAFE rules that took effect in 2011, bigger cars have lower mileage requirements. For the first 30 or so years CAFE was on the books, the rules divided the market into cars and light trucks but held all vehicles in each class to the same fuel-efficiency standard. Automakers that sold only gas guzzlers, whether big cars or big trucks, had to pay penalties. That changed with a reconception of CAFE that began under President George W. Bush in 2008 and culminated in rules the Obama administration promulgated for 2011 and beyond.
Now, automakers' mileage targets vary depending on the "footprints" of the vehicles they sell—the area between the four wheels. Cars and trucks are still regulated separately, but within each class, fuel efficiency requirements drop as vehicles grow. That means automakers whose sales mix is weighted toward bigger vehicles have lower fuel-economy targets to meet. They no longer have to offset their big gas guzzlers with sales of small gas sippers to bring up the fuel-economy averages. As a result, there's nothing anymore to hold them back from selling lots of big trucks, which drive profits. Ford gets half its U.S. profit from large pickups, and General Motors gets about 35 percent, says Barclays Capital analyst Brian Johnson.
Kate Whitefoot, a researcher at the National Academy of Engineering, came to believe that the new CAFE rules were tilted in favor of large pickup trucks while working on her doctorate in design science at the University of Michigan. In a 2011 article in the journal Energy Policy, Whitefoot and a mechanical engineering professor, Steven Skerlos, concluded on the basis of computer simulations that it would be cheaper to meet the new standards for big pickups than for small pickups, SUVs, or cars. "The goal of the policy was that vehicle size wouldn't change at all," Whitefoot says. Instead, "We're seeing that it clearly is going up for trucks."
Barbara Kiss, an engineer at GM who's manager of vehicle efficiency and energy policy, says "the notion that it's easier" to achieve the fuel-economy standards for bigger vehicles "is simply not true." Trucks, she says, have tough performance demands such as towing power that complicate the effort to improve their fuel efficiency. But the high profits that carmakers earn on trucks show it's still sweet to be a maker of pickups and SUVs. Kevin Tynan, an auto analyst for Bloomberg Intelligence, says each sale of a well-equipped pickup truck contributes "easily" $10,000 to automakers' operating profits. Sandy Munro, chief executive officer of Munro & Associates, a consulting company in Auburn Hills, Mich., that specializes in cost studies, says, "I can't begin to tell you how much simpler it is to make a truck vs. a car. If I was a head guy at Chrysler or Ford or whoever, my focus would be: How do I get everybody to buy trucks, where I can make a tremendous amount of money?"
Pickups are more dangerous than cars and more common on the road than other hazardous vehicles, such as tractor-trailers. A study by economists at the University of California at Berkeley found that adding 1,000 pounds to the weight of a vehicle increases by 46 percent the risk of a fatality in the vehicle it hits. The Insurance Institute for Highway Safety concluded in 2012 that car passengers are still more likely to die when hit by a pickup than when hit by an SUV or another car despite design changes that make pickups less likely to ride up on cars when they collide.
The change in CAFE regulations was good for safety in one respect: Automakers have no reason anymore to make small cars even smaller (and more dangerous) to offset sales of their big ones. If they do, they'll just find themselves having to meet tougher standards. And the rules encourage weight reductions in trucks of any given footprint. On net, though, the National Highway Traffic Safety Administration estimates that the new rules for model years 2017 to 2025 will cause crash fatalities to rise by around 100 for occupants of cars and fall by a little more than 100 for occupants of light trucks over the vehicles' lifetimes. (Those aren't huge shifts: Traffic accidents kill about 30,000 people a year.)
The NHTSA says it will look at the rise of big pickup trucks as part of a review of the CAFE rules that will apply to model years 2022 to 2025. That review doesn't have to be finished until 2018, but the skirmishing has already begun.
The bottom line: Fuel-efficiency standards free automakers to sell bigger pickups that are likelier to cause fatalities in car crashes.
Before it's here, it's on the Bloomberg Terminal.
LEARN MORE