Bankers Flock to India Festival for Drag Races and $79,000 Bikes
Siddharth Philip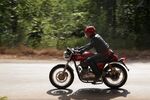 The man in the armored jacket revs up his Harley-Davidson Fat Boy. He rides south, toward the balmy shores of Goa, where he'll take a break from his other, less glamorous life as Nalin Nayyar, Mumbai-based head of an asset management company.
He's not alone. Legions of bankers, fund managers and entrepreneurs are among the 10,000-plus upper-class rebels converging Friday on the sun-kissed beaches of the former Portuguese colony for India Bike Week. Inspired by the annual Sturgis Motorcycle Rally in South Dakota, the event is India's biggest of the year for bikers.
"It's a way to de-stress," said Nayyar, 46, chief executive officer of Religare Global Asset Management, which says on its website it has about $20 billion in assets under management. "The other reason to go for IBW is to meet new friends and catch up with old ones."
The festival with two days of organized events will feature a parade of motorcycles from the likes of Harley-Davidson Inc. and Triumph Motorcycles Ltd., tarmac-smoking drag races, deafening rock music, and bike washes from bikini-clad models. While it's too early to call the event a tradition -- the first IBW was two years ago -- its growing popularity speaks to the rising affluence of a country that could become the world's biggest market for large motorcycles within a decade.
Sharing Passion
For some, the event is an opportunity to meet people who share their passion. Jaspal Singh, who heads information security as a director at Deutsche Bank AG in Mumbai, is looking forward to meeting other riders whom he only knows from Facebook.
Before he bought his 1,690-cc Fat Boy, Singh first owned a SuperLow, and then a Heritage Softail Classic -- both Harley motorcycles.
"I have converted a lot of my colleagues to Harley, still a lot of them are apprehensive about safety, large engines," Singh, 42, said. "Even four years ago, it was hard to imagine someone spending more on a bike than on their cars, but we've already crossed that mental hurdle."
That's reflected in demand. Annual sales of motorcycles powered by 500-cc or larger engines are projected to grow to 255,000 motorcycles in 2024, according to Deepesh Rathore of Emerging Markets Automotive Advisors, up from 33,450 in the 10 months ended January. That may make India the largest market for the vehicles within a decade, he said.
Rising Wealth
The outlook is driven by rising wealth in the country. The number of households with a net worth of at least 250 million rupees ($4 million) may almost triple to 343,000 in the five years through March 2019, according to a report by Kotak Mahindra Bank Ltd.
Attendance at IBW has more than doubled since the 2013 inaugural event, and sponsorships have surged. There's fun: a dedicated drag-racing strip, five music stages and eight bars. And there's business: manufacturers have put about 150 motorcycles on display.
"A lot of the attendees for the IBW are people thinking of buying big bikes," said Martin da Costa, CEO of Seventy Event Media Group, which organizes the festival. "And they get a chance to see what is available."
Among those who have ridden 370 miles from Mumbai are V.C. Karthic and Arvind Nachaya. Karthic, 40, founder of outsourcing company Buzzworks, rode his 865-cc Triumph Bonneville to Goa while Arvind Nachaya, 42, a senior executive at Citibank NA in Mumbai took his 1,340-cc Suzuki Hayabusa to the seaside enclave.
They are prime targets for manufacturers such as Harley and Piaggio's Aprilia, which are adding outlets in India.
"In the 15 years that I gave up riding, a couple of things happened in India that prompted me to get back on the saddle," said Karthic. "The roads dramatically improved, reliable brands entered the market, and I could afford one."
Harley Plant
This opportunity encouraged Harley, which started selling in India in 2010, to set up its first manufacturing plant outside the U.S. in the South Asian nation. The company's sales in the country more than doubled to 3,870 motorcycles in the 10 months ended January.
Harley plans to add as many as five dealerships in India this year, in cities including Coimbatore, Lucknow, Guwahati and Kozhikode, Anoop Prakash, managing director of the company's India unit, said in an interview in Goa Friday.
"Every year we expand into more and more Tier 2 cities," said Prakash. "These markets are still evolving, and leisure motorcycling is taking off."
Triumph, Enfield
Triumph, which set up an assembly plant in India in 2013 and began selling in the country early last year, delivered 1,143 bikes. Local manufacturer Royal Enfield Motors Ltd. has sold 2,437 of its 525-cc Continental GT motorcycles, more than a fivefold surge from a year earlier.
Last year, Harley unveiled its Street 750 model at the show. Targeting young urbanites who want a nimbler ride more suited to Mumbai gridlock and potholes than U.S. highways, the liquid-cooled Street is the smallest in a lineup that includes the 1.5 million-rupee Fat Boy. And the Street sells at one-third of Fat Boy's price.
Harley's 1,800-cc CVO Limited, which costs about 4.2 million rupees in India, will be one of the priciest models on display at the event.
For those wanting to look beyond the marques, there are five local companies competing to show the best custom-built motorcycle. And Benelli, the Italian brand owned by China's Zhejiang Quianjiang Motorcycle Co., will also make its India debut at the show.
"Motorcycling is a passion and doesn't come to everyone," said Nachaya, the Citibank executive, who is riding to Goa with a group that calls itself "Sore Ass Riders." "At the IBW, you can meet people, exchange stories, and have a good time."
Before it's here, it's on the Bloomberg Terminal.
LEARN MORE