AmEx's Antitrust Defeat Compounds Challenges Facing CEO Chenault
Elizabeth Dexheimer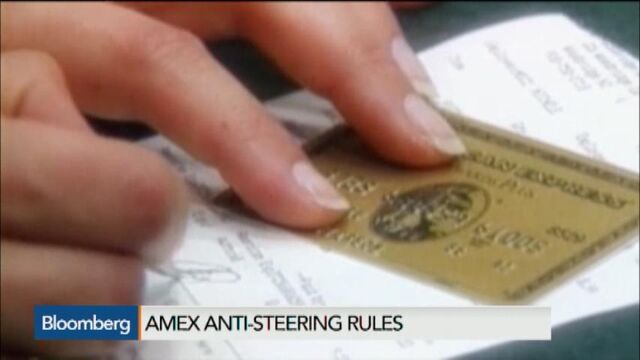 American Express Co.'s Kenneth I. Chenault can't catch a break.
As much as 12 percent of AmEx's annual revenue could be at risk if the lender is forced to let merchants steer customers to cheaper cards, according to one analyst's estimate. A federal judge ruled on Thursday that the company's current arrangement violates U.S. antitrust law.
Investors are eager to hear how Chenault intends to recoup potential losses. After severing its partnership with Costco Wholesale Corp. last week, AmEx said it plans to increase spending on marketing and rewards programs to convince Costco shoppers to keep using its card at other stores. The lender also ended a partnership with JetBlue Airways Corp.
AmEx needs to offer "more specifics about what they are going to do to make up for this, that's what we're craving," said Edward Woods, who helps manage about $7.7 billion at Bahl & Gaynor Inc., including AmEx shares. "Investors are looking for more definitive plans than what AmEx has given."
While the New York-based company said it plans to appeal Thursday's decision, a process that could take at least a year, the ruling puts additional pressure on the company's ability to charge merchants higher fees. It also adds to a growing list of challenges that Chenault, the company's chief executive officer, must overcome.
"This is more bad news in the wake of a series of negative developments," said John Hecht, an analyst at Jefferies Group LLC.
Costco Partnership
AmEx, the biggest U.S. credit-card issuer by customer purchases, is ending its 16-year relationship with retailer Costco, a business that accounts for about 20 percent of loans and 10 percent of all cards. Chenault also faces a slowdown in customer spending, while fighting to retain the firm's grip on affluent customers amid greater competition. AmEx shares have declined 16 percent this year, the worst performance in the Dow Jones Industrial Average.
RBC Capital Markets estimated that as much as 12 percent of AmEx's total revenue is at risk following U.S. District Judge Nicholas Garaufis's ruling, while Jefferies estimated 5 percent. AmEx's revenue climbed 4 percent in 2014 to $34.3 billion from a year earlier, while net income increased 9.8 percent to $5.89 billion.
The potential effect of Thursday's ruling will ultimately be determined by whether merchants encourage customers to use other cards, said Sanjay Sakhrani, an analyst at Keefe, Bruyette & Woods Inc. Merchants haven't been effective so far at convincing shoppers to use less expensive debit cards and cash rather than credit cards, he said.
'Steer Customers'
"It's hard to steer consumers to another branded product, we just don't believe merchants will do it," Sakhrani said. "It's questionable about how much they end up saving for themselves, whether or not it alienates customers and it creates friction at the point of sale, which is something merchants don't want."
AmEx declined to make Chenault available for an interview. The firm called the judge's decision "disappointing" in an e-mailed statement.
"The court's ruling will not provide any benefit to consumers and will, in fact, harm competition by further entrenching the two dominant networks," Andrew Johnson, an AmEx spokesman, said in the statement.
Warren Buffett's Berkshire Hathaway Inc. is AmEx's largest shareholder, owning 151.6 million shares as of Dec. 31.
Discount Revenue
American Express cards are accepted at about 3 million fewer locations than Visa Inc., MasterCard Inc. and Discover Financial Services and the company typically charges merchants a higher rate for accepting and processing cards. AmEx's biggest source of revenue -- about $19.5 billion in 2014 -- comes from such fees, also known as discount revenue. The lawsuit may give merchants more leverage to cut costs, which could prompt AmEx to lower its price.
"The real test will be whether merchants really do believe that AmEx's product is worth a higher rate," said Moshe Orenbuch, an analyst at Credit Suisse Group AG. "If not, AmEx will have to get the economics to the point where they can make a return."
Chenault has said the merchant rules are needed to protect the company's brand from discrimination. AmEx's "spend-centric" business model differs from competitors, which rely on interest charged on revolving balances to generate most of their revenue.
"Their business model was premised on premium pricing, premium rewards, affluent consumers," said Josh Beck, an analyst at Pacific Crest Securities LLC. "To the extent that there's contraction, it may hurt them. It doesn't bring into question their whole business model, but this ruling is another added pressure."
Before it's here, it's on the Bloomberg Terminal.
LEARN MORE