AMC Cinemas CEO Sees Overseas Buyers for U.S. Theater Chains
Anousha Sakoui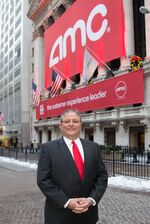 More overseas buyers will enter the U.S. theater business in the next few years as the industry consolidates, said Gerry Lopez, chief executive of AMC Entertainment Holdings Inc., the No. 2 U.S. cinema chain.
AMC was taken over by China's Dalian Wanda Group Co. in 2012 and went public the next year. Lopez has seen interest from others, he said in a telephone interview, without giving specifics.
"I wouldn't expect that over a period of the next one to three years, by any stretch, that Wanda would be the only foreign interest to acquire assets here," Lopez said.
The rebounding U.S. economy will drive interest from international suitors, Lopez said. While AMC and several small chains have traded hands in recent years, Regal Entertainment Group, the biggest U.S. theater circuit, dropped plans to sell itself in January, saying a deal wasn't in the best interest of shareholders.
With 2015 off to a "roaring start" with "American Sniper," "The SpongeBob Movie," and "Fifty Shades of Grey," the North American box office could set a record this year, Lopez said. Ticket sales in the U.S. and Canada, may reach $11.25 billion, he said. That's up 8.6 percent from 2014.
"The U.S. market remains very attractive to foreign interest," Lopez said. "That interest is going to be somewhat tempered at the moment because of the strength of the dollar."
Regal, based in Knoxville, Tennessee, put itself up for sale in October. The company, controlled by billionaire Philip Anschutz, hasn't commented on any bid interest it may have received.
AMC, based Kansas City, Missouri, rose 3.1 percent to $32.48 at the close in New York. The stock has gained 24 percent this year.
Before it's here, it's on the Bloomberg Terminal.
LEARN MORE