$350 Million Hole Is Biggest Brazil World Cup Legacy for Hosts
Tariq Panja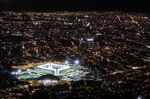 The 22-kilometer (13.7-mile) scar disfiguring the center of Cuiaba is a daily reminder to citizens of this Brazilian city of failed World Cup promises. And matters may be about to get worse.
A billion reais ($350 million) of public money has already been spent on a light railway system and construction companies say it will take at least 400 million reais more to complete. The state of Mato Grosso has suspended activities and may scrap the entire project, said Gustavo Oliveira, state secretary for strategic projects.
The railway was supposed to be finished three months before the inland city of 550,000 located in western Brazil hosted four World Cup group games in June.
With just one station completed, tracks not laid and other unfinished work lining its route, Cuiaba's rail system is the most visible failure of projects linked to the 2014 World Cup. The city has failed to complete 22 other promised legacy works including a hospital and several transport infrastructure programs.
"The works are suspended for now because the schedule wasn't kept, costs are not as predicted and the estimate for the final bill is not consistent," Oliveira, who took up his post in January, said in an interview. If the numbers don't add up and local sentiment turns against the rail system, known locally as VLT, the project will be scrapped next month.
Debris and unfinished work litter the center of Cuiaba, capital of the state of Mato Grosso, where cattle outnumber humans. Half-complete metal structures that would be stations line the route, two electric sub stations are complete, while the 40 wagons that would move passengers are gathering dust near the city's airport. Commuters wait for a local bus at a station built for trains that may never arrive.
Government Probe
While officials weigh the future of the VLT, local prosecutors are considering bringing fraud charges of against members of the former Mato Grosso government that suddenly scrapped plans for a cheaper bus system in favor of the VLT.
"What we are talking about now is to identify what is the financial value, and then discuss if this is a priority or not," Oliveira said.
The future of the transit system isn't the only World Cup-related concern that's taxing local officials. The city doesn't have a team in Brazil's top soccer leagues, making it hard to fill the 41,000-seat, 570 million-reais Arena Pantanal. Cuiaba was chosen as part of former Brazil President Luiz Inacio Lula da Silva's promise to take the tournament to all corners of the country. Officials in the Amazon capital Manaus are also struggling to make their new stadium pay its way.
On a recent morning the perimeter of the Cuiaba stadium attracted a smattering of elderly joggers and a couple of stray dogs. Since hosting the World Cup games, the arena has held 17 matches and one religious event. Local teams rarely attract more than 1,000 fans, while larger numbers attend games involving popular Rio or Sao Paulo-based teams like Corinthians or Flamengo.
Emergency Repairs
The stadium was temporarily closed for emergency repairs earlier this year. It will host a double-header featuring four local teams on Sunday. The state allows local teams to play there rent free, and isn't close to earning the 15 million to 18 million reais needed annually to ensure it's not another burden for the public coffers, said Oliveira. The Arena Pantanal held World Cup games before construction was complete, and will be shuttered again in May for further works.
Despite its troubles Paulo Cesar, the stadium's superintendent, says it is a source of pride for locals.
"We've only had one broken seat since it opened so you can see they like it," he said. Cesar said the World Cup raised the profile of the city and taught the local population about the requirements to host a world class event.
Oliveira said Russia, the next World Cup host, should look at what happened in Cuiaba and learn from its experiences.
"You can't think think just about the event, you have to understand what the costs are going to be and about the next 20 or 30 years," he said.
Before it's here, it's on the Bloomberg Terminal.
LEARN MORE