Zuckerberg Money Manager Iconiq Adds to Energy Investments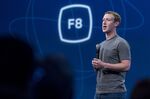 (Bloomberg) -- Iconiq Capital, which helps manage the fortunes of Silicon Valley billionaires including Facebook Inc. co-founder Mark Zuckerberg, bought energy stocks last quarter as prices slumped.
Iconiq increased the value of its energy holdings by 5.8 percent during the quarter after buying shares of Par Petroleum Corp., Royal Dutch Shell Plc, BP Plc and Total SA, according to a regulatory filing.
The San Francisco-based firm was founded in 2011 by a group including former Goldman Sachs Group Inc. and Morgan Stanley financial adviser Divesh Makan. He's described the team at Iconiq as "Mark's family office." Clients include Twitter Inc. co-founder Jack Dorsey and Facebook Chief Operating Officer Sheryl Sandberg.
Morgan Jaros, a spokeswoman at Iconiq, declined to comment on the regulatory filing.
Iconiq saw the value of its publicly disclosed U.S. equity holdings rise 17 percent to $519 million last quarter. The firm said last year it managed about $1.4 billion.
The firm's largest U.S. equity position was Alibaba Group Holding Ltd., which had an initial public offering last year. The firm held 1.79 million shares of the Chinese e-commerce company valued at $186 million at the end of the year. It also held almost 85,000 shares of Facebook worth $6.6 million as of Dec. 31.
Zuckerberg, 30, has a net worth of $33.4 billion, according to the Bloomberg Billionaires Index.
Iconiq also bought shares of online retailer JD.com Inc., based in Beijing, and Boston-based Wayfair Inc., with a combined value of about $15 million as of Dec. 31.
Money managers who oversee more than $100 million in equities in the U.S. must file a Form 13F within 45 days of each quarter's end to list those stocks as well as options and convertible bonds. The filings don't show non-U.S. securities, holdings that aren't publicly traded, or cash.
To contact the reporters on this story: David De Jong in New York at ddejong3@bloomberg.net; Margaret Collins in New York at mcollins45@bloomberg.net
To contact the editors responsible for this story: Christian Baumgaertel at cbaumgaertel@bloomberg.net; Peter Newcomb at pnewcomb2@bloomberg.net Pierre Paulden, Josh Friedman