Ukraine Starts Troop Withdrawal From Key Town of Debaltseve
Daryna Krasnolutska and Kateryna Choursina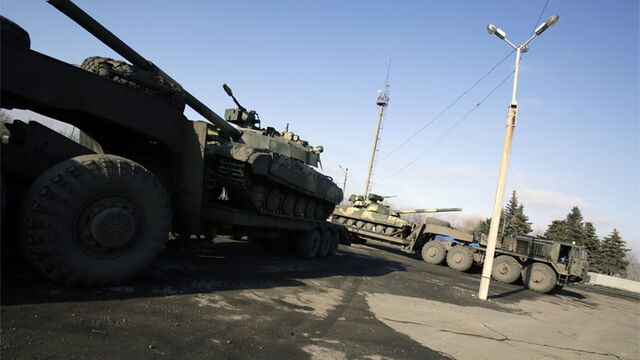 Ukraine started to withdraw its forces from an encirclement at the strategic crossroad town of Debaltseve, where heavy fighting with pro-Russian rebels is threatening a truce reached last week.
Some Ukrainian troops are leaving the town as "full scale" street fighting continues following a small tank battle, Ilya Kyva, a deputy police chief of the Donetsk region, said by phone on Wednesday. Kyva wouldn't say how many Ukrainian soldiers had left or how many still remained surrounded by the rebels. Ukrainian Eurobonds fell to a record as fighting was also reported near the coastal city of Mariupol.
The combat is hurting the latest effort to end 10 months of fighting that's killed more than 5,600 people and eroded Russia's ties with the U.S. and Europe. A deadline set in the truce, which was struck last week after negotiations in Belarus by the leaders of Ukraine, Russia, Germany and France, passed on Tuesday with little indication it had been met.
U.S. Vice President Joe Biden and Ukrainian President Petro Poroshenko agreed by phone that "if Russia continues to violate the Minsk agreements, including the most recent agreement signed on February 12, the costs to Russia will rise," according to a White House statement on Tuesday.
Soldiers Captured
The rebels said hundreds of Ukrainian soldiers were surrendering in Debaltseve, Tass news service reported Wednesday, citing Donetsk rebel official Maxim Leschenko. Nikolay Kolesnik, a commander of Ukrainian Krybas battalion, said for "sure" there were casualties in the town battle, according to a Facebook post on Wednesday.
It was impossible to independently verify claims of troops surrendering or casualties. An unspecified number of Ukrainian soldiers, taken by the rebels as prisoners on Tuesday, still remain in captivity, according to Kyva.
With the fighting undermining the truce, investors sent Ukraine's benchmark bond due in July 2017 1.5 cents lower to an all-time-low 51.9 cents on the dollar by 11:46 a.m. in Kiev, lifting the yield to 43 percent. Investors holding Ukrainian notes have lost 12 percent this year, the most among 59 nations in the Bloomberg USD Emerging Market Sovereign Bond Index.
"The potential for further instability in Ukraine is very high," Timothy Ash, chief economist for emerging markets at Standard Bank Group Ltd. in London, said by e-mail. A capture of Debaltseve by rebels may be "hugely disruptive to transport and economic activity in the rest of Ukraine, making an already dire economic situation that much worse."
Truce Threatened
With the truce under pressure, Ukraine's allies have resumed discussions over forcing Russian President Vladimir Putin's government to stop the conflict. The EU said Monday that work is "currently ongoing" on potential "further appropriate action" against Russia. Some U.S. politicians have called for supplying arms to Ukraine, which together with its allies says Russia supports the separatists with hardware, cash and troops.
"The loss of Debaltseve, defended by very significant Ukrainian forces, would perhaps send a clear signal that Russian-backed rebels have the potential, almost at will, to further extend gains into Donbas, and even the rest of Ukraine," Ash said. "The aim perhaps is to extend the feeling of insecurity to the rest of Ukraine and the government in Kiev."
Before it's here, it's on the Bloomberg Terminal.
LEARN MORE