Stocks Synced With Dollar Most Since 2008 on Fed Bets: Options
Joseph Ciolli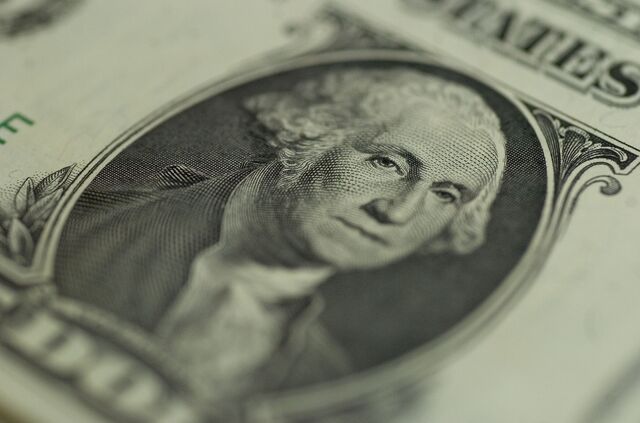 U.S. stock and currency investors are more in sync than at any point in the six-year bull market.
The Standard & Poor's 500 Index is trading in the closest lockstep since 2008 versus an exchange-traded fund that rises as the U.S. dollar gains. ETFs tracking the benchmark equity gauge and the greenback were inversely correlated for the first five years of the bull market, only turning positive last year after the Federal Reserve started scaling back its stimulus program.
With the Fed no longer expanding the U.S. money supply, and as foreign central banks from the euro region to Japan continue to ease, the dollar is surging to its strongest levels in more than 10 years. While the Fed is expected to continue its tightening process through a rate increase this year, investors are focusing on better-than-estimated labor data as a reason to continue buying U.S. equities, according to Kevin Caron of Stifel Nicolaus & Co.
"The market is focusing less on the potential negative effects of higher interest rates, and more on the fact that the U.S. economy is growing nicely compared to the rest of the world," Caron, a market strategist and portfolio manager who helps oversee $170 billion at Stifel Nicolaus & Co. in Florham Park, New Jersey, said in a Feb. 10 phone interview. "That's encouraging investment flows into the U.S. and supporting the dollar."
Dollar Strength
After falling 12 percent from the start of the current bull market in March 2009 through the first half of 2014, the Bloomberg Dollar Spot Index has since surged 16 percent to the strongest level since the gauge started in 2004. The measure fell 0.1 percent at 4 p.m. in New York, while the S&P 500 decreased less than 0.1 percent to 2,099.68.
The greenback reached the highest since 2003 against the euro in late January after the European Central Bank unveiled an expanded stimulus plan in an effort to combat the threat of deflation. The U.S. currency is also close to an eight-year peak versus the yen amid the Bank of Japan's continuously loose monetary policy.
Meanwhile, the S&P 500 has climbed as the Fed has vowed to remain "patient" on raising interest rates amid plunging oil prices and headwinds revolving around a Greek bailout and a geopolitical conflict in Ukraine. The central bank boosted its assessment of the economy at its last policy meeting on Jan. 28.
The correlation between the SPDR S&P 500 ETF Trust and the PowerShares DB U.S. Dollar Index Bullish Fund is 0.18. On Jan. 27, the measure reached 0.31, the highest since October 2008. Since the start of the current bull market, the two securities have had an average correlation of negative 0.36.
Offsetting Factors
"What the correlation is saying now is that interest rates may be going higher, but it won't be for a while," Terry Morris, a senior equity manager who helps oversee about $2.8 billion at Wyomissing, Pennsylvania-based National Penn Investors Trust Co., said in a Feb. 10 phone interview. "If money is going into stocks in search of dividends, it more than offsets deteriorating fundamentals for mega-caps."
Some money managers, such as John Carey of Pioneer Investment Inc., are concerned with the negative effect of a stronger currency on corporate exports. If dollar strength doesn't slow, it will end up being detrimental to potential earnings growth, which will hamper future stock gains, he said.
For every company saying results in a future period will exceed Wall Street projections, 2.4 have warned they will fall short, the second-worst ratio since the bull market began, Bloomberg data show.
Meanwhile, analysts have lowered forecasts for 2015 profit growth in the S&P 500 to 2.5 percent from 10.5 percent in October, the largest reduction in six years.
'Modest Negative'
"Dollar strength overall is a modest negative for stocks," Carey, a Boston-based fund manager at Pioneer Investment Management, which oversees about $230 billion, said in a Feb. 12 phone interview. "It's already had an effect on corporate earnings results, and I think that could continue if it strengthens further."
Traders as of Feb. 13 saw a 55 percent chance the Fed will raise rates from virtually zero by September, up from 39 percent at the end of last month, Fed fund futures show. The likelihood of an increase by December was 76 percent, compared with 61 percent on Jan. 30.
Even amid these increased expectations of a Fed rate hike in the coming months, investor sentiment has been boosted by recent economic data that beat estimates. Employers in the U.S. added more jobs than forecast in January, capping the biggest three-month gain in 17 years, and workers' earnings jumped. At the same time, oil has rebounded 10 percent in February, while concerns over Greece and the Ukraine have eased.
Sliding Yields
Relatively low yields on U.S. Treasuries will also continue to encourage investors around the globe to allocate capital to U.S. equities, according to Randy Warren of Warren Financial Service and Associates Inc.
The 10-year U.S. Treasury note yielded 1.64 percent on Jan. 30, the lowest since May 2013. While rates have advanced in February to 2.14 percent, they remain below the average yield for the six-year bull market of 2.62 percent.
"Any money that needs to find a short-term house to park in will find its way to the U.S., and there'll be a currency translation to come with it," Warren, who manages more than $100 million at Exton, Pennsylvania-based Warren Financial, said in a Feb. 10 phone interview. "It seems like a strong dollar and strong equities can co-exist."
Before it's here, it's on the Bloomberg Terminal.
LEARN MORE