Starbucks Meat Strategy Gets a Taste of Double-Smoked Bacon
The coffee giant expects food sales to double by 2019
by
Starbucks is on a mission to fend off competition by diversifying its menu—mainly by serving more food. The latest addition to cafe menus is a new breakfast sandwich—a Double-Smoked Bacon, Cheddar & Egg Sandwich on a croissant bun—which the chain launched nationwide on Tuesday.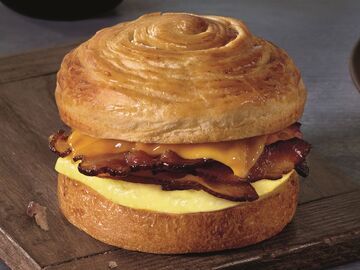 Starbucks may be synonymous with coffee, but the chain is trying to break that mold through "diversified growth." In addition to new breakfast and lunch sandwiches, the cafe launched a line of fancy new La Boulange-brand pastries, and started testing small plates and booze at night. It's also testing such grab-and-go options as a Prosciutto and Mozzarella Pinwheels Bistro Box, and sandwiches like BBQ Beef Brisket and Chicken Artichoke at select stores in Orlando and San Diego.
As Matt Ryan, Starbucks's chief strategy officer, said during an investor conference in December, "We're no longer a one-trick pony here. That era has long passed."
Already, about 30 percent of Starbucks's U.S. sales come from noncoffee sources: That's 18 percent from food and 10 percent from tea. Another 5 percent comes from what it calls lobby sales, which include the merchandise and bagged coffee in stores. While spokeswoman Linda Mills said in an e-mail that coffee "will always be at the core of our business," the share of sales coming from other products is only expected to grow.
Nearly half of Starbucks's sales still happen in the morning. The chain's hope is these new food options will attract more customers later in the day, a period when its nearly 12,000 U.S. stores are open but not very busy. This could improve Starbucks's same-store sales growth, which slowed to 5 percent in the Americas region last quarter. "Given they have these stores, they could fill them a lot more in the afternoon and evening if they had an offering that was appealing," said Sanford C. Bernstein analyst Sara Senatore. She expects more savory foods, like the brisket sandwich, and sharable foods like flatbreads and cheese plates that are on offer at select stores that provide "evening" service, when beer and wine are also available.
The new Double-Smoked Bacon, Cheddar & Egg Sandwich follows the launch of the grilled cheese and turkey panini unveiled in 2014. Cliff Burrows, Starbucks's group president for the U.S., Americas, and Teavana, told investors, "There's an incredible interest in warm sandwiches and our existing warm offerings in that lunchtime period."
Starbucks expects food sales to double by 2019 and reach up to one-fourth of revenue. "I think it's realistic," says Wedbush Securities analyst Nick Setyan. "They only got started with breakfast. Lunch and dinner is ahead of them, and gives them a chance to double food sales."

As for tea and Teavana, Starbucks Chief Executive Howard Schultz told investors in January that they represent "a massive, strategic opportunity to Starbucks around the world." Tea is vastly more popular than coffee in important Starbucks markets like China, and there's still an opportunity to develop the U.S. tea market. Starbucks expects its tea business to double to $2 billion over the next five years. The new Oprah Chai and shaken iced teas have already garnered some interest among consumers.
Starbucks acquired Evolution Fresh in 2011 and La Boulange and Teavana in 2012, and others may follow. "They can take these smaller complementary brands and turn them into billion-dollar brands in their own right," says Setyan, who describes Starbucks as a consumer-products company rather than a coffee retailer. "The Starbucks brand encompasses all these other things now, whether it's food, or tea, or healthy snacks. It's no longer just coffee."
Before it's here, it's on the Bloomberg Terminal.
LEARN MORE