Saudi Arabia's Oil Exports Fell in 2014 in 'Tough Year'
Wael Mahdi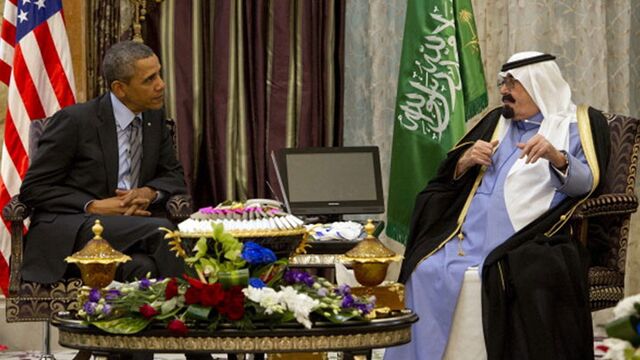 Saudi Arabia, the world's biggest crude exporter, shipped 5.7 percent less oil overseas last year led by a decline in China, its biggest customer in Asia, in a sign the price rout did little to revive demand.
Shipments averaged 7.11 million barrels a day, down from an 11-year high of 7.54 million barrels a day in 2013 and the lowest in three years, according to data from the Joint Organisations Data Initiative. In December, exports dropped 5 percent from November to 6.9 million barrels a day.
Crude prices fell almost 50 percent last year as the Organization of Petroleum Exporting Countries sought to defend market share amid a U.S. shale boom and a global glut estimated by Qatar and United Arab Emirates at 2 million barrels a day. Saudi Arabia will maintain output, Oil Minister Ali Al-Naimi said in December, according to the state-run Saudi Press Agency.
"2014 was a tough year for Saudi Arabia and OPEC," said John Sfakianakis, head of Middle East at Ashmore Group Plc, the London-based money manager specializing in emerging markets. "Demand is sluggish, the U.S. is importing less, China's economy is not growing by double digits, and supply from outside OPEC was not slowing down."
China, Saudi Arabia's largest customer in Asia, cut imports of Saudi crude by 7.9 percent in 2014, while it increased imports from Iran, Iraq, Kuwait, Angola, and U.A.E., according to official Chinese data.
China Shipments
"When you see your shipments to China declining, you have to be worried about your market share," Sfakianakis said. Saudi Arabia needs to keep exports at a minimum of 7 million barrels a day for the 860 billion-riyal ($229 billion) 2015 budget, he said. Brent oil must average $80 this year for the budget to break even, he said. Crude was $59.53 a barrel today.
The drop in crude exports explains to some extent why Saudi Arabia is offering discounts on crude, according to Sfakianakis, a former adviser to the Saudi government. Saudi Aramco, the state-run oil company, offered Asian customers the biggest discount on its benchmark crude in at least 14 years for January sales. It also cut prices for all grades it sells to U.S. refineries.
Saudi Arabia led OPEC in opposing calls by other members including Venezuela to reduce supply. The 12-member group accounts for about 40 percent of global production.
Lower Demand
Demand for oil last year was below what OPEC expected earlier in the year and that was the reason behind the glut, al-Naimi said in a speech in Abu Dhabi in December. Oil demand grew by 700,000 barrels a day while the group was expecting 1.2 million barrels a day, according to al-Naimi.
OPEC said in its monthly report on Feb. 9 that oil demand last year grew by 960,000 barrels a day while supply from outside the group expanded 1.99 million barrels a day. Non-OPEC supply may grow by 850,000 barrels a day this year as low oil prices will curtail U.S. production, it said.
Saudi Arabia increased production last year to an average 9.71 million barrels a day from 9.63 million barrels a day in 2013, according to the JODI data. The kingdom kept production high as it processed more crude at two refineries it started last year and burned more oil to generate power.
Local refineries processed 2.22 million barrels a day in December, the highest in any single month since at least January 2002, according to JODI data.
New Refineries
Saudi Aramco and partner Sinopec Group started a refinery last year at a joint venture plant at Yanbu on the Red Sea. The plant will have crude-processing capacity of 400,000 barrels a day. The company, along with partner Total SA of France, built a refinery of the same size at Jubail on the Persian Gulf. That plant, known as Satorp, had been running at full capacity since Aug. 1, Total officials said Sept. 23.
Saudi Arabia burned crude to generate power last year at the highest daily rate since 2009, when JODI started reporting the data. About 553,000 barrels a day of crude were burned on average by the nation last year, compared with 483,000 barrels a day in 2013, JODI data showed.
Before it's here, it's on the Bloomberg Terminal.
LEARN MORE