Next Up on the 2016 Road Trip: South Carolina
John Kasich, Joe Biden, and Marco Rubio all have the Palmetto State on their calendar.
By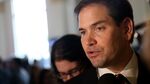 With a year to go before the first presidential nominating contests, it's easy to understand why potential candidates, the media, and activists are so focused on Iowa and New Hampshire. But don't overlook South Carolina, another early state on the road to the nomination: Two possible Republican candidates and one Democrat are heading there this week, and native son Senator Lindsey Graham is keeping his name in the mix.