Watches
New Watch Wednesday: Mid-Winter Rush With Breitling, A. Lange & Söhne, Jaquet Droz
Three new watches, three different approaches, three winning recipes
By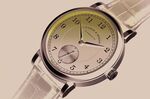 During the window between SIHH in January and Baselworld in March—or, as I like to call it, the "mid-winter rush"—brands are scrambling to get their new watches for the year in front of collectors (and, ahem, journalists) to gauge reactions while there's still time to make final tweaks before they go into full-scale production. Today we look at a robust vintage-inspired chronograph, a sleek dress watch, and an enamel-dialed nod to the 18th century. These three watches are perfect examples of taking an archetype and executing it with gusto (and have certainly got this journalist's attention).
Breitling Chronoliner

Breitling fans tend to fall into one of two distinct camps: those who like rugged vintage chronographs and those who like shiny, blingy modern watches. For a brand with such a storied military and tool watch history, plus such incredible modern technology, Breitling often manages to pigeonhole itself into making what look like oversized fashion watches. The last few years it has slowly been adding watches to the lineup that recall its glory days to appeal to vintage enthusiasts. This is one of those watches.
The Chronoliner is still modern-day huge (46mm across), but it has all the little details that make vintage Breitlings so great. The black bezel has bold markings for tracking a second time zone (with that red-tipped hand), the subdials are a creamy color instead of pure white, and the top 30-minute register has those six luminescent rectangles (vintage Breitling Co-Pilots only had five). A date window is white numbers on a black background, an understated yet great choice. Hey, Breitling, more of this please.
Price: Not yet announced
A. Lange & Söhne 1815 "200th Anniversary F.A. Lange" Edition

The black dial/white metal combination is the holy grail for most modern watch collectors. Whether it's platinum, white gold, or steel, white metal is a little less ostentatious than yellow or rose gold and can be more easily dressed up or down. Likewise, black dials can look sporty or dressy depending on how they're treated. The 1815 is Lange's flagship basic dress watch and this is the first time it's been offered in this coveted colorway—a 200-piece limited-edition run commemorating the 200th birthday of the brand's founder, Ferdinand Adolph Lange.
This is all to say that the folks in Glashütte, Germany, have figured out the perfect recipe for a hype-generating limited-edition watch: white metal case with slick black dial, 40mm case size that will appeal to a wide swath of people, an injection of big-number brand history, and all at a price that's relatively entry-level for A. Lange & Söhne. But the best part is that when the excited collectors calm down and the limited-edition race subsides, this will still be one hell of a watch.
Price: $33,500
Jaquet Droz Grande Seconde Deadbeat

Here, a deadbeat is actually a good thing, a mechanical wolf in sheep's clothing. Let me explain: The second hand on a quartz watch ticks in discrete seconds, while a mechanical watch's second hand appears to "sweep" since it moves a few times each second as the balance wheel swings back and forth in the movement. A so-called "deadbeat seconds" complication mimics that quartz-like ticking by storing up those multiple swings and then sending energy to the second hand in discrete bursts on each actual second, creating the same precise ticks on the dial. People who don't know much about watches might look at your wrist and assume there's a battery lurking in there somewhere, but you don't care about impressing those people anyway.
The large central second hand on the Grande Seconde is the perfect palette to show off this esoteric complication. The main dial up top and large date dial below form an eight (a preferred motif for Jaquet Droz) on the hard-fired enamel dial, which creates a creamy white dial with crisp black and red markings. It's a beautiful execution that nods to history without looking too antiquated. Under the hood is a silicon balance spring and a few nerd-baiting proprietary components that make the movement extremely accurate and reliable over time.
Price: Not yet announced
Before it's here, it's on the Bloomberg Terminal.
LEARN MORE