ECB Said to Expand Greek Bank Lifeline to Cover Fleeing Deposits
Paul Gordon and Jeff Black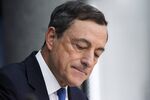 The European Central Bank approved a 3.3 billion-euro ($3.8 billion) expansion to emergency funding for Greece's banks, a euro-area official with knowledge of the talks said, as deposit flight continued amid uncertainty over whether the country would remain in the euro.
At a meeting of the ECB's Governing Council in Frankfurt on Wednesday, officials approved an increase in the maximum amount of emergency liquidity assistance the country's lenders can draw down from their local central bank, said the person, who asked not to be named because the decision wasn't public. Lenders can now access 68.3 billion euros, up from the 65 billion euros set last week, according to the official.
Greece and its euro-area creditors have been at odds over the formula needed to extend the country's 240 billion-euro rescue beyond its expiration at the end of February. The prospect that the country could leave the single currency has prompted depositors to remove about 20 billion euros from Greek banks since December.
The ECB doesn't comment on ELA, which is provided at a higher rate than normal ECB financing and is at the risk of the local central bank. The ECB insists that it is only for solvent banks, and the country they're located in has to have sustainable public finances.
The lending facility is reviewed at least every two weeks. The ECB next meets on March 5 in Nicosia, Cyprus.
Before it's here, it's on the Bloomberg Terminal.
LEARN MORE