Oil Falls With Ruble as Europe Stocks Rise on Greek Deal Outlook
Jeremy Herron and Emma O'Brien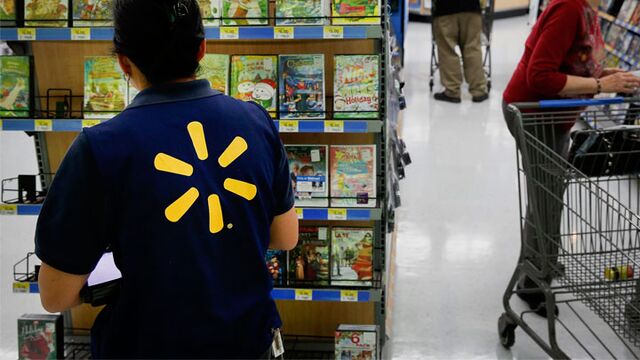 The Nasdaq Composite Index rose a seventh day, capping its longest rally in a year as Priceline Group Inc. drove gains in Internet shares. The dollar climbed and Treasuries retreated, while oil fell on surging U.S. supplies.
The Nasdaq Composite added 0.4 percent by 4 p.m. in New York, extending an almost 15-year high as Priceline rallied on earnings. The Standard & Poor's 500 Index fell 0.1 percent, while Wal-Mart Stores Inc. led the Dow Jones Industrial Average lower after saying it will boost workers' pay. The Bloomberg Dollar Spot Index advanced 0.5 percent. Yields on 10-year Treasury notes climbed four basis points to 2.12 percent after sinking Wednesday. U.S. oil lost 1.9 percent to $51.16 a barrel.
Investors continue to wait for a breakthrough in Europe, with Germany indicating a proposal submitted by Greece on its bailout funding could be used as a basis for negotiations. Finance ministers meet in Brussels Friday. U.S. data Thursday showed Americans have become more optimistic in recent months as fuel prices plunged and firings abated, while an index of leading indicators rose less than forecast. U.S. crude supplies rose a sixth week, to a record, a government report showed.
"The Greek negotiations will continue with high drama," Chad Morganlander, a money manager at St. Louis-based Stifel, Nicolaus & Co., which oversees about $170 billion, said by phone. "Market speculators are expecting an eventual deal. Any push back from Germany is being digested or interpreted as a short-lived negotiating tactic."
U.S. Data
The Bloomberg Consumer Comfort Index's monthly economic expectations gauge rose by 1 point to 54 in February, data Thursday in the U.S. showed, its highest level since January 2011. The Conference Board's index of leading economic indicators, a measure of the outlook for the next three to six months, climbed less than forecast in January. A separate report indicated fewer Americans than forecast filed for jobless claims last week.
The mixed data came a day after minutes of the Federal Reserve's January meeting signaled an inclination for officials to keep rates on hold "for a longer time" given the strong dollar and uncertainty over Greece and Ukraine.
While investors pushed back bets on when the Fed would raise interest rates, they're still showing confidence an increase is possible by year-end. Fed fund futures traded on the CME Group Inc. exchange gave a 19 percent chance the central bank will lift rates at their policy meeting in June. They showed 77 percent odds of an increase by December.
Priceline, Wal-Mart
"Despite the initial reaction to the Fed's minutes, some investors stepped back and thought the U.S. economic data were actually solid," said Neil Jones, head of hedge fund sales at Mizuho Bank Ltd. in London. "A rate increase by the Fed may not be immediate, but 2015 is still a possibility.
The Dow Jones Internet Composite Index rose 1.6 percent to its highest level since September 2000, led by United Online Inc. and Priceline.
Priceline, the largest U.S. online travel agent, surged 8.5 percent to the highest level since September after posting fourth-quarter profit that topped analysts' estimates, buoyed by increased international bookings. The S&P 500 gauge of technology stocks was the biggest gainer among 10 industry groups, adding 0.4 percent to its highest level since September 2000. Facebook Inc. climbed 3.5 percent, the most since October.
Wal-Mart slid 3.2 percent, the most since October, after cutting its annual sales forecast, saying the strong dollar threatened to crimp the value of overseas revenue. The world's largest retailer will increase pay for 500,000 of its U.S. hourly workers to at least $9 an hour by April and then to $10, amid a drop in the U.S. jobless rate to close to the level the Fed considers full employment.
European Gyrations
The Stoxx Europe 600 Index added 0.3 percent Thursday, extending its highest close since November 2007.
The index swung around in European trade, rising as much as 0.4 percent after the European Commission said Greece's request for an extension of loan facilities could pave the way for compromise. Stocks then pared gains on news Germany had rejected the plan, before rising again as a German official, who asked not to be named because the talks are private, said his government regarded Greece's proposal as a basis for negotiations.
''Markets are reacting to any news coming out of Greece within a relatively small range," said Michael Woischneck, who helps manage about $7.1 billion at Lampe Asset Management in Dusseldorf, Germany. "It's likely that all sides have the best intentions to reach an agreement, but they are not finding enough common ground quite yet."
Energy Stocks
The Greek ASE Index closed up 1.1 percent, after a day of gyrations that saw it slump as much as 1.4 percent and surge 4.3 percent. Yields on 10-year Greek bonds fell eight basis points, or 0.08 percentage point, to 9.92 percent. Rates on Italy's notes dropped three basis points to 1.60 percent, while German bunds were little changed at 0.38 percent.
A gauge of energy companies declined the most among 19 industry groups in the Stoxx 600, dropping 2 percent, the most this month. Total SA slid 2.7 percent and BG Group Plc lost 2.6 percent. Energy stocks also damped gains in the S&P 500, slipping 0.8 percent as crude oil dropped a second day.
Crude supplies in the U.S., the world's No. 1 oil consumer, increased by 7.72 million barrels to 425.6 million last week, the most in records compiled since August 1982 by the Energy Information Administration. The American Petroleum Institute reported said stockpiles rose by 14.3 million barrels. Analysts surveyed by Bloomberg had predicted a median increase of 3 million barrels.
Russian Markets
The highest U.S. crude production in three decades helped trigger a global glut that pushed oil prices almost 50 percent lower in 2014. Energy explorers are paring drilling rates and investments in response to the slump. Marathon Oil Corp. said Wednesday that it will cut an additional 20 percent from its spending plan for this year.
Russia's dollar-denominated RTS index fell 2.5 percent, after closing at the highest level since Dec. 3 on Feb. 18. The ruble weakened 0.5 percent to 61.90 per dollar after a four-day rally.
Leaders of France, Germany, Russia and Ukraine agreed that the truce accord reached in Minsk must be implemented even after fighting forced the government in Kiev to abandon a strategic crossroad town in the east. Pro-Russian separatists continued shelling Ukrainian forces near the Sea of Azov port city of Mariupol, military spokesman Anatoliy Stelmakh said Thursday.
Metals Movements
Gold extended a rebound from its lowest level in six weeks. Futures for April delivery climbed 0.6 percent to $1,207.60 an ounce, the biggest gain since Jan. 30. Silver futures for March delivery advanced 0.7 percent to $16.381 an ounce on the Comex, after dropping to the lowest level since Jan. 9 on Wednesday.
Nickel fell to a 12-month low on concern European demand for industrial metals will falter. The metal for delivery in three months slipped 1.9 percent to settle at $13,985 a metric ton on the London Metal Exchange, after the price touched $13,910, the lowest price since February last year.
The Bloomberg Commodity Index was little changed Thursday after sliding 1.2 percent the previous two days.