Constitutional Crisis Threat Hangs Over Delayed Nigeria Vote
Chris Kay and Dulue Mbachu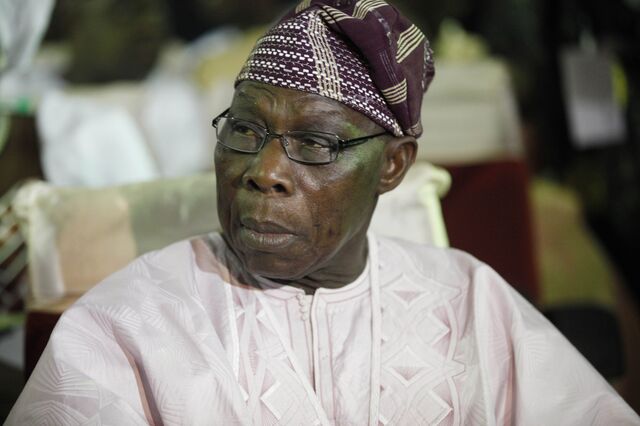 Nigeria is in danger of descending into a constitutional crisis after electoral officials bowed to a request by the security forces this month to postpone general elections, civil-rights groups said.
The head of the Independent National Electoral Commission, or INEC, Attahiru Jega, met with civil-rights groups on Feb. 7 and told them President Goodluck Jonathan's national security adviser, Sambo Dasuki, said the vote should be delayed. The military couldn't guarantee a safe ballot and needed six weeks to defeat the Islamist militant group Boko Haram, he said. While Jega said INEC was ready to hold the election, he announced the postponement later in the day.
The security forces' decisive involvement in prompting the delay touched a nerve with rights groups. Africa's largest economy has been ruled by a series of military governments since independence from the U.K. in 1960. The army bowed out of power in 1999 after running the continent's top oil producer for the 15 preceding years.
"The ultimate goal of those that are pursuing this is to destroy the credibility of the commission and not hold elections," said Clement Nwankwo, executive director of the Policy and Legal Advocacy Centre, who attended the meeting with Jega in Abuja, the capital. "There's a real risk of it happening."
Jonathan, 57, is facing former military ruler Muhammadu Buhari, 72, in the presidential vote, which was delayed from Feb. 14 to March 28.
Oil Prices
His government is under pressure from an almost 50 percent crash in oil prices last year that exposed the nation's crude-dependent finances and sent the naira tumbling 18 percent against the dollar in the past six months. Nigeria's benchmark stock index has dropped 23 percent this year in dollar terms, the world's worst performer after Ukraine, according to data compiled by Bloomberg.
The elections must be held at least 30 days before May 29, when the president's constitutional term expires. If Nigeria's lawmakers decide to postpone the vote again on the grounds that the nation is at war with Boko Haram, all public officials would remain in office for another six months. Their terms can be extended until parliament decides it's safe to hold a ballot.
An interim government could be set up if Jonathan is disqualified as a candidate or if the election is delayed beyond April 29 without parliamentary approval. It would be headed by the current Senate president, David Mark, a former military general, of the ruling People's Democratic Party.
Bitter Feud
"I don't see how anybody can contemplate any extension beyond six weeks because there is no constitutional grounds on which you can do that," Jega told a Senate hearing Wednesday in Abuja. Mark said after Jega's briefing that nobody in the upper house "wants to come back through the back door."
The debate over the election postponement has erupted into a bitter feud between Jonathan and former military ruler and civilian president, Olusegun Obasanjo.
Obasanjo has said in public statements that Jonathan may be using the delay to regain support against Buhari and could scuttle the election if he loses.
"What would appear to be happening is that the president has a grand plan, a grand plan to ensure that by hook or by crook, he wins the election or if it all fails, they scuttle it and create chaos, confusion and unpleasantness in the whole country," Obasanjo told reporters outside his residence on Feb. 13 in remarks broadcast by Lagos-based Channels TV.
The president's office accused the former general of working to set up an interim government that he would head.
Obasanjo Quits
Obasanjo announced on Monday that he quit Jonathan's PDP, which was his party when he was elected president in 1999.
"As President Jonathan has also assured the nation, the rescheduling of the general elections was in the best interest of the nation and was never driven by any ulterior motive on the part of government as Chief Obasanjo and others have alleged," presidential spokesman Reuben Abati said in a Feb. 14 statement.
The current ballot delay has echoes of history. Elections on June 12, 1993, were annulled by then military dictator Ibrahim Babangida, who came to power in 1985 by ousting the then army ruler, Buhari. Dasuki, now Jonathan's security adviser, served as Babangida's aide-de-camp.
Military rulers of the past and serving officers fear Buhari will reform the armed forces, Folarin Gbadebo-Smith, managing director of the Lagos-based Center for Public Policy Alternatives, said by phone on Tuesday.
Buhari told delegates at a conference of the Nigeria Labour Congress on Feb. 8 that he would audit how the military spent $32 billion in five years.
Non-Partisan Military
"Buhari is the sort of person, and probably the one figure in Nigeria, who is not afraid of the military establishment and the chess masters behind them," Gbadebo-Smith said. "As far as he's concerned, the military needs to be cleaned up and cleaned out."
Nigeria's military won't undermine the country's democracy and will remain non-partisan, Major-General Chris Olukolade, an Abuja-based spokesman, said last week in an e-mailed statement.
A coordinated air and land assault in a two-day offensive in the northeast led to the deaths of more than 300 Boko Haram militants, Olukolade said in a statement on Wednesday. Chadian forces killed at least 117 insurgents in clashes about 50 kilometres (30 miles) inside Nigeria on Tuesday, its army said.
Most analysts are skeptical of the military's reasoning for needing the six-week delay to defeat Boko Haram, something it's failed to accomplish in six years.
Widening Conflict
"The issues that were put forward by the security chief were not issues that crept up on the country," Kemi Okenyodo, executive director of the CLEEN Foundation, which promotes public safety and justice, who was at the INEC meeting, said by phone from Abuja. "We couldn't understand it on the basis of security. We were wondering, what has changed?"
Boko Haram, which has declared a caliphate, killed at least 1,600 people in January, Bath, U.K.-based risk consultancy Verisk Maplecroft, said in a Feb. 11 report. More than 4,700 people died last year in militant raids, double the number in 2013, according to the advisory group.
Troops from Chad, Cameroon and Niger, as well as Nigeria, are fighting the rebels.
International Concern
The U.S., U.K., Canada and the European Union voiced concern about the election delay and the security reasons given, with Secretary of State John Kerry saying "it is critical that the government not use security concerns as a pretext for impeding the democratic process."
Buhari's All Progressives Congress called the move a "setback for democracy," while urging its supporters to remain calm in a country known for tensions spilling over into violent unrest during elections.
Femi Falana, a Lagos-based constitutional lawyer, called the election postponement the start of a military coup.
"There are fears now that the elections will not hold and that's the final coup," he said by phone. "What we have is a rehearsal now."
Before it's here, it's on the Bloomberg Terminal.
LEARN MORE