Boko Haram Threatens to Disrupt Nigeria's Elections in Video
Mustapha Muhammad and Yinka Ibukun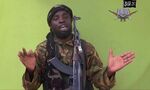 The leader of the Islamist insurgent group Boko Haram vowed in a new video to disrupt Nigeria's rescheduled general elections next month, while the army claimed it killed 300 militants in a two-day offensive.
"This election will not hold even if we are dead," Abubakar Shekau said in the video posted on Twitter, which couldn't be independently verified. "Allah will not even allow it to happen."
Shekau claimed responsibility for a Feb. 14 attack on the northeastern state capital of Gombe, where detained militants were freed. The insurgents distributed leaflets in the town advising residents not to vote in the presidential and legislative elections, which were delayed from Feb. 14.
Boko Haram has escalated its six-year-old campaign to impose Islamic law on Nigeria, Africa's biggest economy and largest oil-producing nation. The fighting has drawn in neighboring countries including Chad, Niger and Cameroon, as the militants broadened their border targets.
A coordinated air and land assault in the northeast led to the deaths of more than 300 Boko Haram militants and the capture of " a few" others, along with weapons and equipment, Major-General Chris Olukolade, a military spokesman based in the capital, Abuja, said Wednesday in an e-mailed statement. Two soldiers lost their lives and 10 were injured, he said.
'Aggressive Patrols'
President Goodluck Jonathan said last week he expects the defeat of Boko Haram within weeks with newly acquired weapons and the cooperation of neighboring countries to battle the insurgents. Nigeria's election commission on Feb. 7 moved national and state elections back by six weeks, citing concerns that there won't be adequate security for voting as the army steps up its offensive in the northeast.
Shekau also threatened to attack Chad and Niger for joining the fight against the Islamists.
"The cordon and search operations are continuing along with aggressive patrols by troops who are now dominating the cleared communities such as Monguno, Gabchari, Abba Jabari, Zuntur, Gajigana, Gajiram, Damakar, Kumaliwa, Bosso Wanti, Jeram and Kabrisungul," said Olukolade.
Before it's here, it's on the Bloomberg Terminal.
LEARN MORE