Alabama Governor Apologizes to India After Cop Paralyzes Grandfather
The 57-year-old grandfather, who does not speak English, failed to answer an officer's questions before being thrown to the ground.
By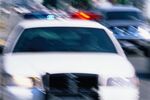 Alabama Governor Robert Bentley apologized to the nation of India on Tuesday for a police officer's use of what he called "excessive force" on a 57-year-old grandfather visiting the United States, an incident that left the man partially paralyzed. 
In addition to a letter sent to India's consul general in Atlanta, Bentley also directed the Alabama Law Enforcement Agency to investigate the Feb. 6 incident in Madison, Ala. 
"I deeply regret the unfortunate use of excessive force by the Madison Police Department on Sureshbhai Patel and for the injuries sustained by Mr. Patel," Bentley wrote. "I sincerely hope that Mr. Patel continues to improve and that he will regain full use of his legs."
Dashcam video of the altercation captured officer Eric Parker slamming a handcuffed Patel to the ground after he failed to answer questions about his identity.  Patel, who had come to the U.S. to help his son and daughter-in-law take care of their son, does not speak English. Parker has been charged with third-degree assault. 
"Finally, and most important, please accept our sincere apology for this tragic incident to your government, Mr. Patel, and the citizens of India who reside and work in our state," Bentley added.
After an initial review of the video, Madison Police Chief Larry Muncey told NBC News that Parker's actions "did not meet the high standards and expectations of the Madison City Police Department." 
Henry F. Sherrod, Patel's lawyer, said his client is still undergoing treatment at Huntsville Hospital. 
"His grip strength and right leg are improving. The left leg is improving but more slowly. He can speak, eat, etc. Only arms and legs affected," Sherrod told the Press Trust of India. 
Patel, who does not have health insurance, is facing medical bills in excess of $250,000.