Zuma Labeled 'A Broken Man' After South Africa Parliament Brawl
Mike Cohen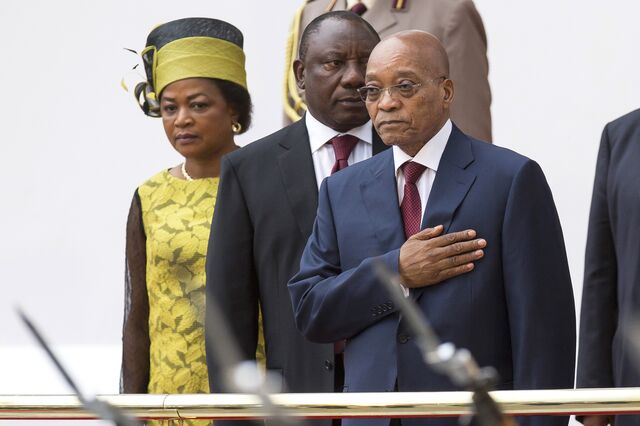 South Africa's opposition parties accused President Jacob Zuma of undermining the justice system and failing to tackle an energy crisis in a debate on his annual state-of-the-nation address, which was interrupted by a brawl.
"You are a broken man, presiding over a broken society," Mmusi Maimane, parliamentary leader for the main opposition party, the Democratic Alliance, said in the National Assembly in Cape Town on Tuesday. "You are willing to break this Parliament if it means escaping accountability for the wrongs you have done."
Zuma's presidency has been clouded by scandal since he took office in May 2009, a month after prosecutors dropped graft charges against him. The nation's graft ombudsman found he unduly benefited from a 215-million-rand ($18.5 million) state-funded home makeover, while an Indian family with whom he is friends used an air force base to transport guests to a wedding in violation of military protocol.
The Economic Freedom Fighters, the second-largest opposition party, took the unprecedented step of interrupting Zuma's keynote address on Feb. 12, demanding to know when he would comply with the ombudsman's recommendation that he repay misspent funds. Scuffles broke out when Parliamentary Speaker Baleka Mbete ordered security forces to remove the party's lawmakers from the chamber. DA lawmakers walked out of the address in protest.
Private Residence
"There is no doubt that you unduly benefited from the construction of your private residence," EFF leader Julius Malema told the legislature Tuesday. "You must pay back the money. Your attitude will not take the country forward."
Zuma, 72, secured the leadership of Africa's second-largest economy after deposing Thabo Mbeki as president of the ruling African National Congress in 2007. While his administration has made progress in providing treatment to AIDS sufferers and increasing access to welfare grants, it's struggled to foster growth and cut a 24 percent jobless rate.
The government also failed to invest in new power stations, leading to a series of rolling blackouts this month.
In his address, Zuma said the government will add 9,600 megawatts of nuclear power to the national grid, with the first unit targeted to come on line in 2023, while increasing output of renewable energy.
Maimane said the government's sole response to the power crisis was to bail-out state power utility Eskom Holdings SOC Ltd. and entrench its monopoly over the nation's power supply.
"Our economy has lost 300 billion rand since 2008 because, without a stable electricity supply, manufacturers cannot produce, investors are driven away and jobs are lost," he said. "Today, there are 1.6 million more South Africans without jobs" than when Zuma took office in 2009.
Before it's here, it's on the Bloomberg Terminal.
LEARN MORE