S&P 500 Just Broke 2,100 for the First Time
Callie Bost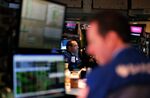 The Standard & Poor's 500 Index reached a record for a second day on speculation that the Greek debt impasse is easing while oil prices erased earlier declines.
Medtronic Plc rose 3.7 percent after its quarterly profit beat analysts' estimates, helping lift S&P 500 health-care companies 0.6 percent. West Texas Intermediate crude rallied 1.4 percent, and energy stocks were little changed after earlier losing more than 1 percent.
The S&P 500 climbed 0.2 percent to 2,100.34 at 4 p.m. in New York. The Dow Jones Industrial Average added 28.23 points, or 0.2 percent, to 18,047.58. The Russell 2000 Index advanced 0.2 percent after reaching a record Friday. About 6.3 billion shares changed hands on U.S. exchanges, 8.4 percent below the three-month average.
"We've had a pretty sizable rally here," Randy Frederick, managing director of trading and derivatives at Charles Schwab Corp., said by phone. His firm oversees $2.45 trillion in client assets. "Oil prices were heading lower earlier and now they've turned around. The developments in Greece are big, but I'd say this is more oil."
Greece's government may request an extension of its loan agreement for six months, according to a person familiar with the matter, a step that could ease a standoff with creditors over the country's future financing.
Discussions aimed at finding common ground between Greece and its creditors ended on Monday without breaking an impasse. With no deal, the government could run out of money by March and be forced to choose between breaking election promises or abandoning the euro.
The S&P 500 rose to an all-time high last week as technology shares rallied and oil rebounded to end stocks' longest dip since 2013. Signs of easing tension between Greece and European leaders also helped push U.S. equities higher.
Oil Rebound
Crude prices jumped 1.4 percent after earlier falling 3.7 percent. Noble Corp. rose 5.1 percent, after an earlier 1.5 percent drop, and Diamond Offshore Drilling Inc. added 4.9 percent, erasing a 2.9 percent retreat.
"One day oil goes up $1 and risk assets rally, the next day oil goes down $1 and risk assets sell off," Mark Luschini, chief investment strategist in Philadelphia at Janney Capital Management LLC, which oversees about $68 billion in assets, said by phone. "I suspect this will be the case until the market can figure out that supply has corrected to demand levels."
Utility companies in the benchmark index fell 0.1 percent Tuesday after earlier rising 0.9 percent. The group fell in five of the prior six sessions and is down 7 percent in February.
Economic Data
Economic data Tuesday showed manufacturing in the New York area grew at a slower pace in February. The Federal Reserve Bank of New York's general economic index fell to 7.78, below economist estimates for a level of 8. Positive readings signal expansion in New York, northern New Jersey and southern Connecticut.
The route for stocks this year has been uneven -- the S&P 500 has rallied 5.3 percent in February, heading for the best monthly performance since October 2011, after losing 3.1 percent in January for its worst month in a year. That evens out to a 2 percent gain for 2015, trailing most developed markets.
The Chicago Board Options Exchange Volatility Index climbed 7.6 percent to 15.8. The gauge, known as the VIX, fell 15 percent last week.
The S&P 500 has gone more than three years without a retreat of 10 percent or more, known as a correction. Still, a strong dollar and a plunge in oil prices that threaten investment and earnings growth have tested the resilience of investors as the bull market nears its seventh year.
Earnings Season
Earnings for S&P 500 companies rose 4.2 percent last quarter, and will probably drop in the next two periods, according to analysts' forecasts compiled by Bloomberg. More than three-quarters of the S&P 500 companies have reported results for the final three months of 2014, with 76 percent beating profit estimates, data compiled by Bloomberg show.
Wal-Mart Stores Inc., Noble Energy Inc., and Discovery Communications Inc. are among companies releasing financial results this week.
Waste Management Inc. jumped 5.2 percent to the highest level since 1999. The company reported fourth-quarter adjusted earnings that beat analysts' expectations and forecast a higher-than-estimated adjusted profit this year.
Medtronic climbed 3.7 percent, leading health-care stocks higher. The world's biggest maker of heart-rhythm devices reported profit that beat analysts' estimates, buoyed by the introduction of new products. Tenet Healthcare Corp. advanced 2.3 percent, and Biogen Idec Inc. added 1.6 percent.
Goodyear Tire & Rubber Co. rose 2.7 percent after its fourth-quarter profit exceeded forecasts.
Cablevision Slumps
Starwood Hotels & Resorts Worldwide Inc. added 2.7 percent after the owner of the Sheraton and W brands said Chief Executive Officer Frits van Paasschen resigned by mutual consent with the board of directors.
Cablevision Systems Corp. dropped 4.1 percent for the biggest decline in the S&P 500. UBS Securities LLC analyst John Hodulik downgraded the shares to sell from neutral, citing concerns about the potential for more aggressive competition from Verizon Communications Inc., and lower odds that the company will get acquired.
Before it's here, it's on the Bloomberg Terminal.
LEARN MORE