Tolls on NYC East River Bridges Would Help Reap $1.5 Billion
Michelle Kaske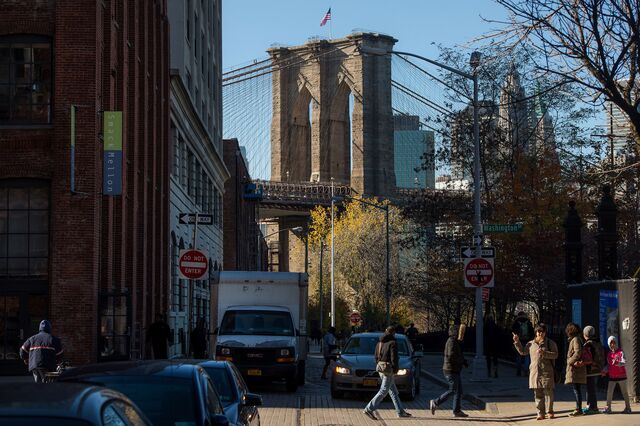 Tolling New York City's East River bridges would help raise $1.5 billion of revenue for mass-transit, road and bridge infrastructure, according to a report from a collection of business, labor and environmental groups.
The new revenue would help fill a $15.2 billion funding gap in the Metropolitan Transportation Authority's $32 billion, five-year capital plan and support road and bridge needs in the area, Move NY said.
The plan proposes tolls on the city's four East River bridges: Brooklyn, Manhattan, Queensboro and Williamsburg. It calls for one-way fees of $5.54 with EZPass or $8 without. Drivers would also pay at avenue crossings at 60th Street in Manhattan, including the one on West Side Highway and FDR Drive.
"We don't have the funding, the federal government is no longer coming to the rescue," Sam Schwartz, a former New York City Transportation Department chief engineer and a key architect of Move NY's report, said Tuesday at a news conference in Manhattan.
Tolls on MTA bridges, such as the Verrazano-Narrows span, which links Staten Island and Brooklyn, would be reduced as those areas have fewer mass-transit options, according to the report. The group also proposes placing a surcharge on taxis and app-based car services traveling below 96th Street.
16th Increase
Transit riders and drivers on MTA bridges will pay more on March 22. That's the 16th increase for those users since the 1970s, Schwartz said. During that same time, motorists have been crossing the four East River bridges for free.
Borrowing against the new revenue would produce at least $15 billion of bond proceeds, enough to close MTA's capital budget deficit, Alex Matthiessen, campaign director at Move NY, said during the news conference.
About $1.1 billion annually would go toward the MTA's capital plan, which maintains, upgrades and expands a network of subways, buses and commuter-rail lines. An additional $375 million would support roads and bridges in the area. The Move NY proposal would create 30,000 jobs annually for the region, according to the report.
If approved, the new tolls would be implemented as soon as 2017 or 2018, Matthiessen said.
Before it's here, it's on the Bloomberg Terminal.
LEARN MORE