Aussie Barbecue Goes Communal as Sydney Homes Get Bulldozed
Nichola Saminather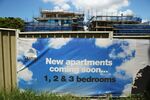 After spending half their lives in a four-bedroom house in the suburbs of Sydney, the Dunkerleys are selling the family home to a developer, who plans to build 141 apartments on the site.
"We're very happy with the price," said Chris Dunkerley, a 64-year-old retiree who joined forces with seven neighbors to negotiate the best price for the suburban Sydney houses slated for demolition and stand to get as much as A$3.8 million ($3 million) each. "But we wouldn't move to an apartment. Maybe a townhouse in Sydney, or a house in the country."
The Dunkerleys' changing fortunes stem from plans by the New South Wales state government to allow developers to build thousands of flats on sites currently occupied by detached homes. In doing so, it's seeking to reverse a slowdown in homebuilding in Sydney since 2001 and curb spiraling home prices.
"The great Australian dream of owning your own home is still very much alive, but it's changing," said Kim Hawtrey, associate director of the market research firm BIS Shrapnel Pty. "Those without the traditional quarter-acre block may turn the weekend barbecue into a communal event, and find themselves playing cricket in a nearby park instead of the backyard."
The great Australian dream is the country's take on the American dream, which equates prosperity and freedom with land ownership. In Australia, it encapsulates an idealized suburban lifestyle of a standalone house with a grassy backyard, swimming pool and barbecue.
Slowing Construction
Sydney added 72,000 dwellings from 2006 to 2011, from 110,000 between 1996 and 2001, according to population-analysis firm ID Consultancy Pty. That has not been the case across Australia though.
Melbourne, the nation's second-most populous city, added 144,000 homes between 2006 and 2011 from 110,000 between 1996 to 2001. Home building there has been so strong that it's now sparking concerns of an oversupply.
Sydney's population grew by about 63,000 people in the year ended June 30, 2012, compared with dwelling approvals of about 25,000, according to the report.
As building has failed to keep pace, values have surged, putting new homes out of the reach of many young buyers. Sydney's dwelling prices jumped 28 percent over the past two years, and 33 percent in the past three years, according to property information provider CoreLogic Inc.
The Reserve Bank of Australia reduced its benchmark rate by 25 basis points to a record low 2.25 percent this month to counter sharp declines in commodity prices and a strong currency. That led banks to cut home loan costs, potentially adding "some fuel to what are already strong housing market conditions," CoreLogic said on Feb. 3.
More than two-thirds of Australians live in Sydney, Melbourne and six other state and territory capitals.
Building Plans
The Liberal-National coalition, which ousted the Labor party in the New South Wales elections of 2011, vowed to address the underbuilding, embarking on a plan to help create new homes and jobs.
Since then, the pace of construction has picked up. In Sydney, 15,104 homes were built in the year ended June 30, 2012, compared with 13,041 in fiscal year 2009, according to analysis by public policy research organization McKell Institute. Dwelling approvals rose 7 percent across Sydney in 2014 from the previous year, statistics bureau data show.
"I'm pretty optimistic about supply for the next few years," said Sam Stewart, senior policy co-ordinator at McKell, adding that he expects the pace of building to continue to climb. The state is missing "targets by far, far less than they were under the previous government."
In Australia, local councils and the state government are responsible for planning and approving new housing supply.
Growing Population
Sydney's population will rise by 1.6 million over the next 20 years, from about 4.4 million today, requiring 664,000 new homes, according to government plans for the city.
The state hasn't quantified how far the rezonings will go toward meeting that need, and supply is subject to further planning, Lachlan McKenzie, a spokesman for the state Department of Planning and Environment, said in an e-mailed response to questions. Councils must approve projects even in rezoned areas.
Building up instead of out is "increasingly meeting a need on the demand side, as apartments are more affordable for young people who often want to live closer to major work hubs," Hawtrey said.
In the western Sydney suburb of Epping where the Dunkerleys are selling, the state plan will add about 3,750 apartments and townhouses over 20 years, said Shannon Cochrane, spokeswoman for Hornsby Shire Council, which includes the suburb.
'Top Dollar'
More apartments doesn't always mean better affordability, Cameron Kusher, senior research analyst at CoreLogic, warned. Both Sydney and Melbourne are among the 10 least affordable housing markets, according to a ranking of 360 cities across nine countries by consultancy Demographia.
"When you get competition for these sites and developers paying top dollar, you don't necessarily get the affordable unit product needed," Kusher said.
Australia is the most unaffordable housing market on a price-to-income basis after Belgium, according to the International Monetary Fund.
Requiring a proportion of homes in some new developments to be affordable, similar to a mandate in South Australia state, is one way to ensure that prices are kept low, said Saul Eslake, chief Australia economist at Bank of America Merrill Lynch.
100 Inquiries
The Dunkerleys and their neighbors got more than 100 inquiries from developers and 12 bids for their homes, said Matthew Ramsay, director of residential development at CBRE Group Inc., who marketed the properties.
They signed a 12-month option in August for between A$3 million and A$3.8 million each, conditional on SJD Epping, the local arm of a Chinese developer SRE Group Ltd., getting council approval for the project, Dunkerley said.
The price was about 15 percent higher than expected, even including the increased value from the rezoning, Dunkerley said. That's partly because acquiring multiple sites together makes progress on the project easier for the developer, Ramsay said.
Documents filed by the developer to Hornsby council show it plans to build 141 apartments on the site. SJD spokesman Alex Zhao, who confirmed the number, declined to comment further.
Chinese developers have ventured overseas as the mainland housing market falters, and demand from buyers there for overseas property climbs. Australia is the No. 1 destination for Chinese seeking to emigrate after Canada, which in February 2014 implemented restrictions on foreign investment and immigration, according to an August report by CLSA Asia-Pacific Markets.
Infrastructure Burden
While putting new housing in established areas limits sprawl, it could tax existing infrastructure, said Bill Randolph, director of the City Futures Research Center at the University of New South Wales.
"Will we need to renew the infrastructure down the track to cope with these higher densities?" he said. "That's not a question that ever seems to be asked."
Despite some concerns, the shift to apartment living is inevitable, said billionaire Harry Triguboff, founder and managing director of Meriton Apartments Pty, Australia's biggest apartment developer, who began building in 1963.
"When councils rezone property, rates go up because the value of the land goes up, and people who live in the houses will sell because they'll get more money," said Triguboff, dubbed "Highrise Harry" for his strategy of building the tallest apartment blocks he can get approval for. "They'll all be rezoned, the whole bloody lot."
Before it's here, it's on the Bloomberg Terminal.
LEARN MORE