Thanks to International Standards, the Washington Monument Is Now 10 Inches Shorter
The monument dedicated to America's first president just shrank.
By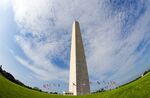 One of the proudest, most dramatic national monuments ever erected in the United States has just undergone a bit of shrinkage thanks to international scrutiny. 
Buckling to international standards set forth by the Council of Tall Buildings and Urban Habitat, government surveyors announced this week that the height of the Washington Monument has been revised 10 inches downward, Fox News reports. 
While the monument's official height has stood at 555 feet, 5 and 1/8 inches since it was completed in 1884, using the more modern standards of measurement, the new height  will now be recorded as 554 feet, 7 and 11/32 inches. The discrepancy is a result of using a different base point. 
"The building didn't change height because of anything; it is just where you start from," Dru Smith, chief geodesist with the National Geodetic Survey, told the Associated Press. 
Another factor in the monument's diminished stature is the likely possibility that it has been sinking, as Fox News reported:
The original measurement conducted in 1884 by Lt. Col. Thomas Casey is believed to have used four brass markers as a base for measurement. Those markers remain in place 9 inches below ground off each corner of the monument. It's possible the markers were at ground level in the past. A new plaza was installed around the monument more recently, and "it's clear that what was ground level has changed over the years," Smith said.
The National Park Service, however, is not all that impressed with the new measurement and will not be changing the building's height in its brochures. 
"For our purposes we'll still use the historic height rather than the architectural height, since they're measured from different places," spokeswoman Jenny Anzelmo-Sarles told the AP.