Singapore's Economy Grew More Than Initially Estimated in 4Q
Sharon Chen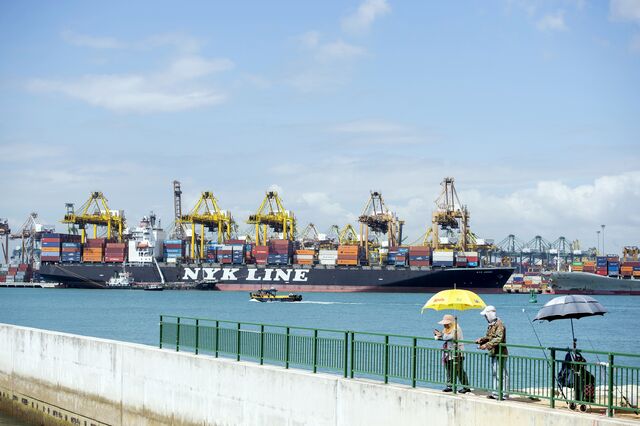 Singapore's economy grew more than initially estimated last quarter as manufacturing improved, even as the outlook for this year is clouded by an uneven global recovery.
Gross domestic product grew an annualized 4.9 percent in the three months through December from the previous quarter, when it rose a revised 2.6 percent, the Ministry of Trade and Industry said in a statement Tuesday. That compares with a January estimate of a 1.6 percent gain and the median forecast of 2.2 percent in a Bloomberg News survey of 13 economists.
A plunge in oil prices is generating more disposable income in the U.S., Singapore's third-biggest export destination. The Monetary Authority of Singapore unexpectedly eased policy last month, sending the currency to the weakest level since 2010 against the greenback.
"The manufacturing revision is in line with the trend we're seeing across the region because of better demand from the U.S.," said Wai Ho Leong, a Singapore-based economist at Barclays Plc. "It looks like a year of steady growth momentum for Singapore, supported by the positive impact of lower oil which we expect will be felt later in the year."
The Singapore dollar gained 0.1 percent to 1.3558 against the U.S. currency as of 9:16 a.m. local time. It has weakened more than 2 percent so far this year, among the worst performers in Asia of 11 currencies tracked by Bloomberg.
Soft Outlook
Singapore's economy expanded 2.1 percent in the fourth quarter from a year earlier, after growing 2.8 percent in the previous three months, the trade ministry said today. The median estimate in a Bloomberg survey was for a 1.7 percent gain.
The economy grew a revised 2.9 percent in 2014, the trade ministry said, compared with an earlier estimate of 2.8 percent. The government reiterated its expansion forecast of 2 percent to 4 percent this year.
"The global economic outlook has softened in recent months," the trade ministry said in a statement. "The pace of recovery is also likely to remain uneven across the economies, with the U.S. economy being the main bright spot" and sectors such as manufacturing and wholesale trade likely to face headwinds.
Exports fell 0.7 percent last year, a separate release showed. Shipments are forecast to grow between 1 percent and 3 percent this year.
Finance Minister Tharman Shanmugaratnam is set to unveil the budget for the 2015 fiscal year in Parliament on Feb. 23. The government may set aside S$10 billion ($7.4 billion) to S$12 billion for a program to provide financial help to low-income elderly, according to DBS Group Holdings Ltd. economist Irvin Seah.
Appropriate Policy
The outlook for monetary policy remains "appropriate" and unchanged, Jacqueline Loh, deputy managing director at the central bank, said at a briefing.
Singapore's manufacturing contracted an annualized 2.5 percent in the fourth quarter from the previous three months, data showed today, compared with an initial estimate of a 5.8 percent drop. Construction gained 2.2 percent, while services grew 7.8 percent in the same period.
"The labor market is expected to remain tight, with low unemployment and rising vacancy rates," the trade ministry said. "As a result, labor-intensive sectors such as construction, retail and food services may see their growth weighed down by labor constraints" while others such as business services are expected to remain resilient.
Before it's here, it's on the Bloomberg Terminal.
LEARN MORE