Kate Matrosova, BNP Paribas Trader, Dies at 32 While Hiking
David Henry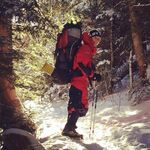 Kate Matrosova, a New York-based credit trader for France's BNP Paribas SA, has died after she was stranded in a blizzard while hiking alone in New Hampshire's White Mountains. She was 32.
Her body was found at about 2 p.m. Monday between Mount Madison and Mount Adams in the Presidential Range, according to a news release from the state's Fish and Game Department. A search had begun after she activated an emergency locator beacon at 3:30 p.m. on Feb. 15. Matrosova died of exposure to temperatures that fell below minus 20 degrees Fahrenheit and winds of up to 108 miles (174 kilometers) per hour.
Matrosova, who lived in New York City, was dropped off at the base of the mountains early on Feb. 15 by her husband, Charlie Farhoodi, Lieutenant Wayne T. Saunders of the Fish and Game Department, said today in a telephone interview. Farhoodi is a vice president at JPMorgan Chase & Co. in New York, according to his LinkedIn.com profile.
She planned to hike alone to the top of Mount Madison before heading through Mount Adams, Mount Jefferson and the 6,288-foot (1,917-meter) Mount Washington, the highest peak in the U.S. Northeast. Rescue teams were unable to access the area overnight because of the high winds and falling temperatures.
"I guess if you are going to hike in this type of weather, you need to be in a more sheltered area, not up on an open exposed ridgeline," Jim Goss, a Fish and Game official, said in an interview with WMUR-TV in Manchester, New Hampshire. "There's just no room for error in a place like that."
Market Focus
Matrosova had worked in her latest job since August, according to her LinkedIn page. She worked on credit indexes and total return swaps on behalf of BNP Paribas clients, John Karabelas, head of North American credit sales, said today in an interview.
"Very strong personality, very outgoing, brilliant," he said of Matrosova. "Always a smile on her face, extremely smart and dedicated."
Russian-born, she spoke with a slight accent, Karabelas said. While she didn't talk much of adventurous travels, he said, "it's not surprising, given her personality and her tenacious attitude at work, that she would also do those types of activities in her free time."
Previously, she spent 17 months as an intern in Paris-based BNP Paribas's corporate and investment-banking unit, assigned to foreign-exchange and interest-rate structuring and currency trading.
Career Strategy
"My goal is to have as much exposure to the company and to different teams," Matrosova said of her BNP Paribas placement in a 2013 interview with the Haas School of Business at the University of California at Berkeley, where she studied. "I try to find a new person every day and take them to coffee and shadow them for an hour to see what they do. It's amazing what you can learn."
Matrosova previously worked as an investment adviser for more than three years and at JPMorgan as a financial analyst from June 2006 to January 2008. Her financial career began at Chicago-based Morningstar, where she was an equity-research intern.
"We are deeply saddened by the death of our colleague, Kate Matrosova," BNP Paribas said in an e-mailed statement. "Our thoughts are with her family."
U.S. Move
Originally from Omsk, Russia, near the border with Kazakhstan, Ekaterina Matrosova moved to the U.S. in 2002 to study, according to the U.K.'s Daily Mail newspaper.
She completed a Bachelor of Science degree at DePaul University in Chicago in 2006, attended a numerical-analysis course at Harvard University's extension school in 2012 and earned a master's in financial engineering at the Haas School of Business at the University of California at Berkeley in 2014, according to her LinkedIn page.
Matrosova and five other students from her master's program were on the highest-ranking U.S. team in last year's Rotman International Trading Competition in Toronto, the largest event of its kind in the world, according to Haas Business School. She also helped develop a derivatives pricing application for the iPhone, according to Linda Kreitzman, executive director and assistant dean of the master's program.
"Ekaterina was an inspiration to the Berkeley MFE Class of 2014 and to us all," Kreitzman said today in an e-mail. "She was very smart and humble, everyone's friend and the most down-to-earth and unpretentious individual I have ever had the privilege of knowing and coaching in my 15 years at Berkeley."
Before it's here, it's on the Bloomberg Terminal.
LEARN MORE