Jeter's Transition Is Helped by PepsiCo's Nooyi, Michael Jordan
Mason Levinson and Betty Liu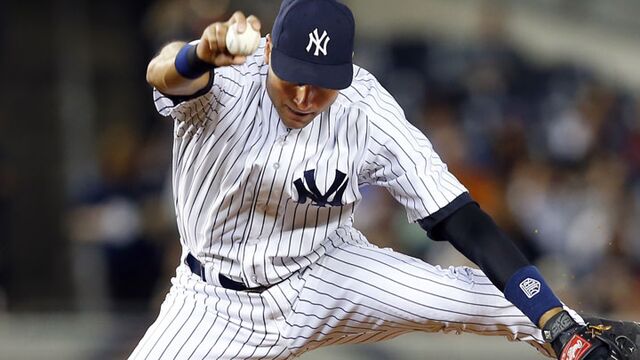 Derek Jeter prepared for life after baseball years before his retirement, using a relationship with PepsiCo Inc. Chief Executive Officer Indra Nooyi to glimpse his future.
"She brought me out to Davos a couple of years ago and she really thrust me into the business scene and made me extremely uncomfortable," Jeter, a long-time endorser of PepsiCo's Gatorade brand, said in a Bloomberg Television interview.
Retired at 40 after a 20-year Major League Baseball career that made him a five-time World Series champion and the New York Yankees' career hits leader, Jeter said his long-term plans include ownership of a baseball team. In October, he founded the Players' Tribune, a media platform for athletes to share first-person long-form narratives.
Given a view into the business community by Nooyi at the World Economic forum in Davos, Switzerland, Jeter said he's learned that patience is needed for success off the playing field.
"I'm coming from a career where it's instant gratification or failure," Jeter said. "In business, it takes a little time."
With other endorsement deals such as Nike Inc. and Procter & Gamble Co.'s Gillette unit, Jeter's annual income was $25.1 million in 2013, 19th among North American athletes, according to Sports Illustrated.
Jeter, who according to Adweek is Gatorade's third-longest endorser after Michael Jordan and Mia Hamm, thanked New Yorkers in a Gatorade commercial that ran during his farewell tour last season.
Baseball Ownership
The Players' Tribune debuted in October and on Feb. 14 announced a strategic partnership with AOL Inc. to co-produce and distribute original series and athlete-driven content.
Asked about his business world influences, Jeter also cited Jordan, the Hall of Fame basketball player who now owns the National Basketball Association's Charlotte Hornets.
"Michael Jordan is like a big brother to me," Jeter said. "And he's someone that has some similarities in terms of playing in the sports world and then going into team ownership, which one day, I'd like to do."
That day isn't anytime soon, Jeter said.
"I don't know enough about it to jump into team ownership," he said. "My biggest fear in life is being unprepared, so I have to make sure that I'm fully prepared before I would do something like that."
When the opportunity does come, it will be in baseball, said Jeter, a 14-time All-Star who retired with 3,465 hits, the sixth-most in MLB history.
"I don't know enough about the other sports to own a team," Jeter said. "I'd like to call the shots, so therefore I'd like to know what I'm doing."
Before it's here, it's on the Bloomberg Terminal.
LEARN MORE