Germany Says Russian Moves Triggering Military Shift
Birgit Jennen and Patrick Donahue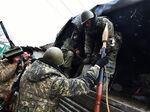 Germany's defense chief said Russia's use of unconventional military force to exploit its dominance over former Soviet states will have "far-reaching consequences" as Berlin shifts its security strategy in coming years.
Defense Minister Ursula von der Leyen said Germany must adjust its response to Russia's "hybrid conduct of war" in Ukraine. She spoke as German military and government officials began drafting a new blueprint of the nation's geopolitical challenges, to be published in a "white book" next year.
"We should have no illusions," von der Leyen said in a speech in Berlin on Tuesday. "The Kremlin's new policy began long before the crisis in Ukraine and will occupy us for a very long time."
As German leaders call for a more assertive role for Europe's largest economy, von der Leyen said Chancellor Angela Merkel's government should take a sober look at Russian power. Even as Germany spearheaded European Union sanctions on Russia and helped boost NATO's presence on its eastern flank, it has rejected calls in the U.S. to ship arms to Ukraine's military in its fight against pro-Russian separatists.
"What is our reaction to the attempt to establish a geopolitical projection of power through military violence as form of influence?" she said.
Germany, the EU and the U.S. accuse Russian President Vladimir Putin of supporting Ukrainian rebels with personnel and weaponry in an attempt to destabilize the region. The Kremlin denies it's involved.
'Hybrid War'
"It's this unconventional orchestration of multi-faceted elements of a hybrid conduct of war that's fundamentally changing the security architecture of the continent and for which we have to consider our response," von der Leyen said.
A cease-fire in eastern Ukraine is being ignored in the the strategic rail hub of Debaltseve, where heavy fighting risks undermining a fragile peace accord sealed after all-night talks last week in Belarus. Upholding the truce requires transparency "as the minimum condition," von der Leyen said.
Germany's Defense Ministry has published regular white books since 1969 to outline strategic agenda. The last to be published, in 2006, detailed military priorities within the EU and NATO. Since then, an overhaul of the country's military has included scrapping conscription.
Before it's here, it's on the Bloomberg Terminal.
LEARN MORE