Germany's Finance Minister Just Trolled His U.K. Counterpart
U.K. Finance Minister George Osborne's comments about matters in the euro zone, to which Britain does not belong, provoked a sharp response
by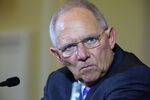 The finance ministers of the European Union held their Ecofin meeting in Brussels on Tuesday. On his way into the meeting, U.K. Finance Minister George Osborne said: "We're reaching crunch time for Greece and the euro zone and I'm here to urge all sides to reach an agreement. ... What Britain really needs to see is competence, not chaos."
If George Osborne felt that the U.K.—which is not a member of the euro zone—could easily get away with preaching to the euro member states, he did not have to wait long to be put in his place.
Germany's Finance Minister Wolfgang Schäuble gave a press conference at the end of the Ecofin meeting. 
As a question-and-answers session was finishing, Schäuble was asked a question in English. His answer in English, delivered with a smile, was: "We are still in a German press conference, but I hope George Osborne will deliver some press conference, as he is the most engaged member of the Eurogroup."
These comments, delivered in a lighthearted manner by Schäuble, point to irritation over the U.K. finance minister's frequent comments on internal euro area matters. 
Before it's here, it's on the Bloomberg Terminal.
LEARN MORE