Christie Is Right: America Really Has Lost Respect in the World
The world likes President Obama, but several countries hold America in slightly lower regard now than they did in 2008.
By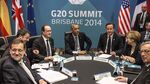 During a Presidents' Day speech in New Hampshire, New Jersey Governor Chris Christie made a claim made by several Republicans and Democrats before him: America is a shadow of its former self, thanks to the president of the opposite party.
"America has lost respect in the world," Christie said during his keynote address to Granite state Republicans. "Not only do our adversaries not fear us, but our friends are worried." Specifically, he argued that our allies don't know if America will "stand up and fight" the military, diplomacy and economic "fights that need to be fought," because of a lack of strong leadership from the president.
The question is, is Christie right? Whether people think the world has lost respect under a president is, not surprisingly, a very partisan issue. As a 2013 Pew Research Center report found, under President George Bush Democrats strongly felt that the world had lost respect, while Republicans have said the same under Obama. 
But perceived levels of respect and actual influence in the world are two different things. Pew's Global Attitudes & Trends project also tracks how various countries view the U.S., including their confidence in our president, which country is the world's economic superpower, and whether they think China will eventually overtake America as the world's leading superpower. 
We used the mean of the survey results in countries where numbers was available in both 2008 and 2014. That's a small sampling of the world at large, but between core allies like the United Kingdom, France, and Japan; rivals like China and Russia; and Middle Eastern countries like Pakistan, it's clear that while confidence in the U.S. president has gone up, faith in the U.S. as a leading superpower and economic leader has gone down. 
Confidence in the U.S. president 
Between the 12 countries where data was available in 2008 and 2014, confidence in the U.S. presidency went up dramatically, from an average of 14.8 percent (per country) expressing confidence in Bush to 44.9 percent expressing confidence in Obama.
Will China replace the U.S. as the world's superpower?
In general, the 19 countries Pew polled in both 2008 and 2014 are less confident China will never overtake the U.S. as a superpower—in 2014 an average of 34.4 percent of respondents (per country) said they believed China would never overtake the U.S., down from 41.5 percent in 2008. 
In 2008, the country averages were 34.1 percent believing China would never overtake the U.S. and 9.5 percent believing China had already overtaken the U.S. In 2014, the country averages showed 33.8 percent believed China wouldn't overtake the U.S. but 15.8 percent believed China already had. In all 19 countries the fraction of respondents who believed China is now the world's leading superpower increased between 2008 and 2014. 
In 2014, 49 percent of the world said that China will eventually replace America, or already has, while 34 percent said China will never replace the U.S. 
Is America the world's economic super power?
Between the same 19 countries, economic faith in the U.S. also declined—from 48.4 percent on average in 2008 to 42.1 percent on average in 2014. In 2014, 45 percent of the world believed America is still the world's economic superpower, compared to 29 percent who believe it's China. 
There are multiple geopolitical factors at play here (countries that don't like China are more likely to believe the U.S. will stay the leading superpower, while Middle Eastern countries and America's rivals are not) but what's clear is that the world  doesn't think America is all powerful. As Pew put it, "the trajectory in global public opinion is clear."