Bank Indonesia Unexpectedly Cuts Key Rate to Bolster Growth
Rieka Rahadiana and Herdaru Purnomo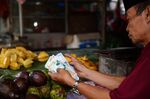 Indonesia's central bank unexpectedly cut its main interest rate for the first time in three years, joining global counterparts in easing monetary policy to support Southeast Asia's biggest economy as inflation cools.
Bank Indonesia Governor Agus Martowardojo and his board lowered the reference rate to 7.5 percent from 7.75 percent, the authority said in Jakarta on Tuesday. Not one of 20 economists surveyed by Bloomberg News had predicted a change. The central bank also reduced the rate it pays lenders on overnight deposits, known as the Fasbi, by 25 basis points to 5.5 percent.
The country's economy shrank last quarter from the previous three months, capping the weakest year since at least the global financial crisis on falling commodity prices and cooling investment. Policy makers are cutting borrowing costs before potential interest-rate increases in the U.S. this year raise the risk of fund outflows from emerging markets.
"The central bank was probably giving the economy a window of opportunity to pick up," said David Sumual, chief economist at PT Bank Central Asia, calling it a "very surprising" decision. "The question is whether this will be followed by more rate cuts or if it will stop here. This probably reflects Bank Indonesia's expectation that the increase in the Fed Funds rate will be delayed."
Slowing Growth
The decision came after the close of stock market and currency trading in Jakarta. The rupiah has fallen almost 3 percent this year, the worst performer in Asia among 11 widely-traded currencies tracked by Bloomberg. Bank Indonesia said countries across the world are boosting exports by weakening their exchange rates.
At least 14 monetary authorities have eased policy since the start of 2015 as declining prices for crude oil and other commodities have damped inflationary pressures. India, Russia, Brazil, Australia, Canada and Sweden are among nations that have reduced official rates.
Indonesia's growth slowed to 5.02 percent last year from a 5.58 percent pace the previous year. President Joko Widodo, who took office in October, has set a target of 5.7 percent in 2015. The central bank didn't face political pressure on its decision, Martowardojo said.
Bank Indonesia forecasts the expansion of gross domestic product this year to be at 5.4 percent to 5.8 percent and projects the current-account deficit to be 3 percent to 3.1 percent of GDP, similar to last year.
Falling Demand
"The policy is in line with efforts by Bank Indonesia to manage the deficit in the current account toward a healthier level," the central bank said in its statement. "The recovery of the global economy is expected to still be ongoing, although uneven."
Bank Indonesia was probably concerned about the drop in January imports announced Monday, Feb. 16, which may be a reflection of falling demand in an economy driven by emerging middle class consumers, Sumual said. Imports fell 15.6 percent last month from a year earlier.
"This means they have shifted their focus from the current-account deficit to bigger worries about slowing growth," Euben Paracuelles, a Singapore-based senior economist at Nomura Holdings Inc., said before the decision. "This could be tricky, when you are trying to boost growth, import demand goes higher. I think the pressure on the rupiah could increase."
The central bank kept its lending facility rate unchanged.
Inflation Manageable
"The rate cut was led by the one time change to the inflation outlook, in response to the government's move to adopt a fixed fuel subsidy regime," said Wai Ho Leong, an economist at Barclays Plc in Singapore. The steady lending rate "is a signal that BI is still maintaining a tight bias on liquidity and lending conditions," he said.
Bank Indonesia raised the reference rate to 7.75 percent from 7.5 percent at an unscheduled meeting on Nov. 18. The move was aimed at countering inflation triggered by a government decision to trim state-fuel subsidies.
The subsidy cut led to higher prices at the pump, yet the fall in global crude has meant retail prices have since fallen. Consumer price gains slowed in January to 6.96 percent from a year earlier, compared with 8.4 percent in December. Inflation in 2015 will be at the lower end of the 3 percent to 5 percent target, the central bank said today.
Before it's here, it's on the Bloomberg Terminal.
LEARN MORE