Asian Stocks Fall for First Time in Four Days on Greece Concern
Yuji Nakamura and Anna Kitanaka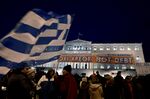 Asian stocks fell from a 4 1/2 month high after talks between Greece and its creditors broke down. Financial shares led declines.
Australia & New Zealand Banking Group Ltd. dropped 2.5 percent after posting weaker-than-expected earnings. Kaisa Group Holdings Ltd. slumped 3.5 percent in Hong Kong after reporting a surge in debt that renewed concerns about the developer's solvency. Skymark Airlines Inc. soared 164 percent after Kyodo News reported the troubled Japanese airliner may get support from Orix Corp. BYD Co. extended gains in Hong Kong on speculation it may cooperate with Apple Inc. on an electric car.
The MSCI Asia Pacific Index fell 0.1 percent to 143.29 as of 4:28 p.m. in Hong Kong. Talks in Brussels ended abruptly Monday as an official from Greek Prime Minister Alexis Tsipras's government said the euro area's recommendation to extend the current bailout conditions was unacceptable. Futures on the Standard & Poor's 500 Index sank 0.6 percent since Feb. 13, with U.S. markets closed yesterday for a holiday.
"Markets recognized the discussions were going to be difficult, so I don't think this changes people's expectations dramatically," said Angus Gluskie, managing director at White Funds Management in Sydney, where he oversees about $550 million. "But it is a key point of uncertainty for investment markets, so it's likely to mean that investors will continue to be cautious."
Failure to strike a deal on Greece's debt by Feb. 28, when the current aid program expires, risks putting the nation's euro membership in jeopardy.
Japan's Topix index rose 0.2 percent. The Nikkei 225 Stock Average slipped 0.1 percent after yesterday finishing above 18,000 for the first time since July 2007. Australia's S&P/ASX 200 Index declined 0.5 percent today, while New Zealand's NZX 50 Index fell 0.1 percent. South Korea's Kospi index gained 0.2 percent.
Lunar Holidays
The Shanghai Composite Index advanced 0.8 percent, extending gains in low trading volume ahead of the Lunar New Year break. Hong Kong's Hang Seng added 0.2 percent. Mainland markets are to shut from Wednesday for the weeklong holiday, while Hong Kong will be closed Feb. 19-20. South Korea will be closed from Wednesday through the end of the week. Markets in Taiwan are shut until Feb. 24.
The Bank of Korea kept interest rates at a record low, as predicted by all 16 economists surveyed by Bloomberg. The central bank is holding firm for the moment, even as China to Australia eased monetary policy this year to bolster growth and support inflation. Japan's central bankers are scheduled to finish a two-day meeting tomorrow, with no policy changes predicted.
Before it's here, it's on the Bloomberg Terminal.
LEARN MORE