Tories Take Lead in ICM Poll as Others Show Labour Ahead
Eddie Buckle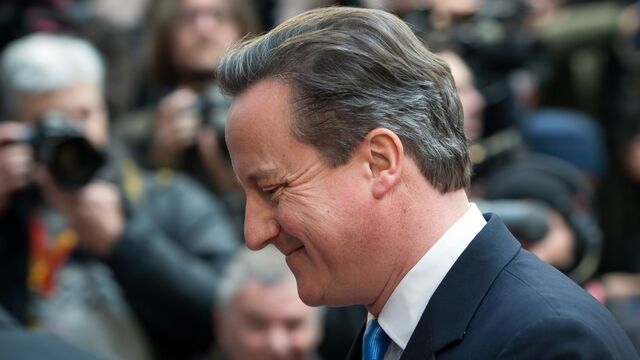 U.K. Prime Minister David Cameron's Conservative Party took a four-percentage-point lead in an ICM Unlimited poll for The Guardian newspaper, a finding that puts it at odds with 10 other surveys over the past week.
Backing for the Tories rose six points from last month to 36 percent, while the Labour opposition declined one point to 32 percent, the Guardian reported on its website Monday. Labour led by 33 percent to 31 percent in a Populus poll published the same day, and Tory upper-house lawmaker Michael Ashcroft gave Labour an advantage of 31 percent to 30 percent.
"While it tends to be the polls that show unusual results or big changes that get all the attention, they are actually the ones we should be most dubious about," YouGov Plc pollster Anthony Wells said on his U.K. Polling Report website. "If there has been a genuine surge in Conservative support, then we'll see it across all the pollsters, and other polls so far this month have shown things pretty stable."
Neither main party is on course for a House of Commons majority in the May 7 general election, with voters increasingly turning to minor parties. Still, the ICM poll showed the U.K. Independence Party down two points from last month at 9 percent and the Greens down two points at 7 percent, with the Liberal Democrats at 10 percent, down one point.
Tax Evasion
YouGov, which publishes polls five times a week, has shown Labour three points ahead in its two most recent surveys. That may be the result of fallout from last week's main political news story, in which Labour attacked the Tories over alleged tax evasion involving HSBC Holdings Plc's Swiss unit.
YouGov conducted one of three Sunday newspaper polls that showed the opposition party in the lead.
Ashcroft's weekly survey was his first this year to show Labour ahead. The opposition party's support was unchanged from the previous week, while the Tories fell four points. Ashcroft's poll put UKIP at 16 percent, up two points, the Greens at 8 percent, also up two points, and had the Liberal Democrats unchanged at 9 percent.
ICM interviewed 1,000 adults and Ashcroft 1,004 respondents Feb. 13-15 for the polls. Neither specified a margin of error.
Before it's here, it's on the Bloomberg Terminal.
LEARN MORE