Scandinavia Must Gird for More Terrorist Acts, Norway Says
Saleha Mohsin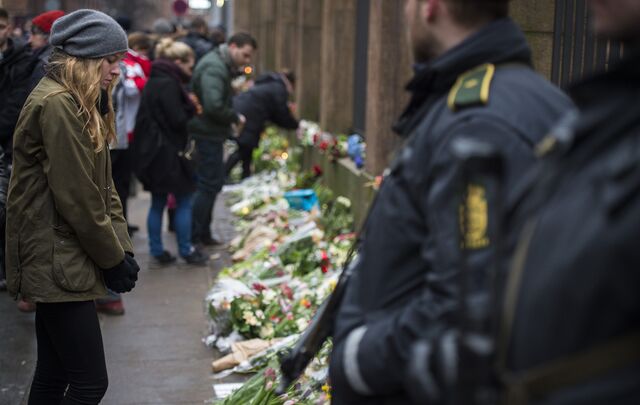 Scandinavia will need to examine its exposure to radicalization as the region faces more terrorist attacks from homegrown assailants, Norway's defense minister said.
"No matter what kind of scenario you look at, for the coming years you will most likely have some kind of terrorism situation to consider," Ine Eriksen Soereide said Monday in an interview at her office in Oslo. "This is the new normal, it's something that we have to get used to now."
Copenhagen erupted in gunfire over the weekend when a man shot and killed two people and wounded five police officers in attacks that targeted a free-speech debate and a synagogue. The suspected killer, a 22-year-old who was born in Denmark, died in a shootout with police after an overnight manhunt.
According to Danish media, the killer was Omar Abdel Hamid El-Hussein. His parents are from Palestine, TV2 reported. Prime Minister Helle Thorning-Schmidt said on Monday he probably wasn't part of an organized terror cell. Even so, Denmark "will of course in the coming time evaluate our fight against radicalization," she said.
Breivik Killings
Norway, like Denmark, is a nation accustomed to freedoms that aren't possible in many other parts of the world. Mothers are used to leaving their babies in strollers outside cafes and passers by have easy access to the nation's parliament. Even after the 2011 hate killings by Anders Behring Breivik, which left 77 people dead and destroyed part of the prime minister's office, security remains more relaxed than in many other parts of the world.
The attacks in Copenhagen, which were the deadliest in Scandinavia since the Breivik murders, hit close to home for Norwegians, Soereide said.
"Young radicalized people who go to Syria or Iraq and come back with the intent and capacity to undertake terrorist acts on Norwegian or European soil, they are to a large extent people who have grown up in our countries," she said.
Though it's unclear whether the Danish gunman acted alone or as part of a group, there are signs he has a number of sympathizers in Denmark. Broadcaster TV2 showed pictures of youths placing flowers at the site where El-Hussein was shot by police. According to Berlingske, a 26-year-old man from the city of Aarhus has expressed sympathy with the suspected killer, declaring "Je suis Omar" on Facebook.
Questions Raised
Politicians are starting to question how the Danish police tracked the suspect. According to the Danish prison services, they had warned the Security and Intelligence Service, or PET, that the man had been radicalized during a prison stay that he emerged from just about two weeks ago.
That warning was confirmed by PET today, which said after looking into the matter it had "no reason to believe that the now dead 22-year-old alleged perpetrator was planning an attack," according to a statement. Jens Madsen, head of PET, said on Sunday that the man had been on their "radar" and that he could have been "inspired" by the mass killings at the Charlie Hebdo magazine in Paris.
Danish media said the suspected gunman in the weekend shootings spoke of fighting for Islamic State while he was in prison. According to newspaper Ekstra Bladet, he posted a video of himself defending Jihad.
Denmark's parliament voted today for a law that would allow the police to take away passports of people who travel to conflict zones and who pose a risk to national security, Ekstra Bladet said. A further vote is needed for final approval.
There are as many as 70 people living in Norway who have fought for Islamic State in Syria and Iraq and are now considered a threat, Soereide said.
"That's quite a high number, considering the size of our country," she said.
Before it's here, it's on the Bloomberg Terminal.
LEARN MORE