Watches
Monday Morning Find: 1950s Steel Vacheron Constantin
When steel is better than gold
By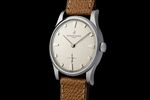 The 1950s were a good decade for dress watches. Movements were robust, designs balanced simplicity and personality, and buyers liked a clean, sleek look to go with the clothing and architecture of the era. This stainless steel, time-only watch (reference 4217) from Vacheron Constantin is a great example of why many collectors think of the mid-century as the golden age of watches.
Some quirky design traits popped up in the '50s, but overall the watches are understated enough that you can wear one today without looking like you're auditioning for a tragic Mad Men prequel. Here, the creamy silver dial has tons of open space, with only a small "Vacheron & Constantin Genève" signature and cross at 12 o'clock. The subsidiary seconds dial at 6 o'clock uses a cross-hairs motif often seen on watch dials of this period. (Sometimes it takes up the whole face.) Faceted hour markers help readability in low light—instead of of luminous dots—which keeps things nice and clean. All this looks awesome paired with the new Hermès-style leather strap.

The movement inside is signed by Vacheron Constantin (complete with the little Maltese cross logo) and looks to be in good condition. It's not ornately decorated, like some of Vacheron's modern movements, but it shows classic architecture, a great example of a reliable, high-end movement from the mid-twentieth century. This is what watches used to be like. 

The size of this watch is key: It's only 33.5 milimeters. This is small by modern standards, even for those devoted to vintage watches. If this watch were even a millimeter larger, the price would jump significantly. At 36mm or larger, it would be sitting in a safe somewhere (probably Italy), collecting dust and waiting for a big auction to pop up. But if you set aside your prejudices, 33.5mm is eminently wearable for a dress watch and looks amazing once you retrain you eye. For comparison, the Patek Philippe ref. 96 (the original Calatrava) is only 30.5mm across, and collectors are constantly drooling over them.
This stainless steel Vacheron Constantin ref. 4217 is available from OnlyVintage for 7,500 euros (about $8,555).
Before it's here, it's on the Bloomberg Terminal.
LEARN MORE