S&P 500 Rises to Record as Greece Lifts Euro; Metals Sink
Stephen Kirkland and Jeremy Herron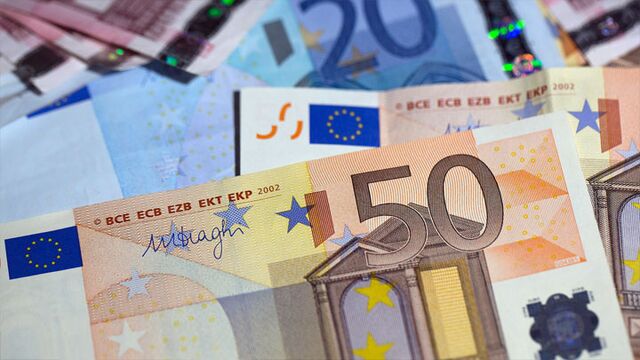 The Standard & Poor's 500 Index rose to a record and the euro strengthened, while Treasuries fell amid speculation Greece's standoff with creditors will ease. Crude oil extended gains as metals tumbled.
The S&P 500 added 0.2 percent to a fresh all-time high of 2,100.34 by 4 p.m. in New York, amid below average trading volumes following Monday's U.S. holiday. The Stoxx Europe 600 finished 0.1 percent higher after reversing losses, while the U.K.'s FTSE 100 Index climbed to its highest level since 1999. U.S. oil advanced for a third day while gold to copper slumped more than 1 percent. The euro rebounded, gaining 0.5 percent to $1.1413. Yields on Greece's three-year notes rose for a second day, to 18.62 percent, and U.S. Treasury rates also climbed.
Greece's government may request an extension of its loan agreement for six months, according to a person familiar with the matter, a step that could ease the stalemate with creditors over the country's future financing. Discussions aimed at finding common ground ended on Monday without breaking an impasse. Health care and bank stocks led S&P 500 gains, and energy producers climbed with crude, with a sub-index of oil and gas shares rising to the highest level since November.
"A lot of the focus continues to be on Europe and Greece," Joe Bell, a Cincinnati-based senior equity analyst at Schaeffer's Investment Research Inc., said by phone. "We haven't seen any sort of resolution on that. That's hovering in the background for most market participants."
Talks Continue
With no deal, Greece could run out of money by March and be forced to choose between breaking election promises or abandoning the euro.
Prime Minister Alexis Tsipras's government intends to make the request Wednesday, the person told reporters in Brussels, asking not to be named as the deliberations are private. Talks are continuing between Greece and its international creditors on the conditions that would be attached to the extension of the loan accord, the person said.
In the U.S., economic data showed manufacturing in the New York area grew at a slower pace in February. The Federal Reserve Bank of New York's general economic index fell to 7.78, below economist estimates for a level of 8. Positive readings signal expansion in New York, northern New Jersey and southern Connecticut.
The Federal Reserve releases the minutes from its January meeting on Wednesday. The central bank boosted its assessment of the economy and downplayed low inflation readings in its latest policy statement, even as it acknowledged global risks. Equities sold off sharply following the meeting as the Fed did little to convince investors that it will keep interest rates near zero past this year.
Treasuries Retreat
Yields on 10-year Treasury notes rose nine basis points, or 0.09 percentage point, to 2.14 percent, the highest level since Jan. 1. Signs of possible progress in Greece and increasing bets that the Fed will raise rates later this year help spur the declines. Treasuries rallied in January as investors sought safety amid the Greek turmoil and moves by global central banks to avert deflation.
The S&P 500 rose to a then record 2,096.99 on Friday as technology shares rallied and oil rebounded to end stocks' longest dip since 2013. Signs of easing tension over Greece and a cease-fire agreement for Ukraine also helped push U.S. equities up 2 percent last week.
The Dow Jones Industrial Average was lifted by American Express Co. and Intel Corp. Tuesday, gaining 0.2 percent to 18,047.58, the highest level since Dec. 26.
Uneven Path
The route for stocks this year has been uneven -- the S&P 500 has rallied 5.3 percent in February, heading for the best monthly performance since October 2011, after losing 3.1 percent in January for its worst month in a year. Those moves leave the index up 2 percent in 2015, trailing most developed markets.
Europe's Stoxx 600 has advanced 10 percent in 2015, after the European Central Bank announced plans to undertake quantitative easing. German investor confidence has climbed to one-year high, with the ECB scheduled to start its bond-buying program next month.
Back in Greece, lenders are urging central bank Governor Yannis Stournaras to seek additional emergency cash as deposit outflows accelerate, according to three people familiar with the situation. Deposit withdrawals picked up after bailout talks ended in acrimony Monday night, said the people, who asked not to be identified because the information is private.
Market 'Confident'
"Investors and analysts seem to be quite complacent and are still expecting a positive outcome," said Christian Lenk, a fixed-income analyst at DZ Bank AG in Frankfurt. "The market seems to be confident in terms of the two parties finding a solution in upcoming days. What's interesting is the quite relaxed attitude investors have to the periphery. The domino effect everybody had been fearing is much weaker now."
Greece's 10-year yield climbed 59 basis points to 10.24 percent. It reached 44.21 percent in 2012 in the run-up to the country's debt restructuring, the biggest in history. Credit-default swaps insuring $10 million of Greek government debt for five years rose by $200,000 to $4.4 million upfront and $100,000 annually, signaling a 71 percent probability of default, according to CMA.
Portugal's 10-year bonds rose, sending yields to 2.36 percent, within seven basis points of a record low set Feb. 13. Italy's 10-year yield was little changed at 1.67 percent, while Germany's rose four basis points to 0.37 percent.
Ukraine Tensions
Russia's Micex Index dropped 0.4 percent amid concern the Ukraine truce agreed last week is faltering.
The cease-fire in eastern Ukraine is being ignored in the strategic transport hub of Debaltseve. Pro-Russian separatists are focusing attacks on the rail junction, which links two breakaway regions and where thousands of government troops are holed up, the military said Tuesday. The rebels claimed to have partial control of the city after 120 soldiers surrendered, Russia's Interfax reported later.
The European Union expanded sanctions against Russia on Monday, adding 19 people and nine entities to its blacklist, including Russian Deputy Defense Minister Anatoly Antonov.
Hong Kong's Hang Seng China Enterprises Index rose 0.5 percent on Tuesday, as the Shanghai Composite Index advanced 0.8 percent in the seventh day of gains, the longest rally since Nov. 28. Trading volume was 26 percent below the 30-day average with markets in mainland China closed from Wednesday for the week-long Lunar New Year break.
Metals Sink
Gold dropped 1.8 percent to $1,209.25 an ounce on the spot market, amid speculation Chinese demand will retreat during the New Year holiday. Silver tumbled 4.5 percent, and platinum dropped to the cheapest level in more than five years. Nickel and Zinc for three-month delivery in London sank more than 2 percent, while copper slid 1.7 percent.
The Bloomberg Commodity Index declined 0.5 percent after two days of gains.
West Texas Intermediate crude oil for March delivery added 1.4 percent from Friday's close to $53.53 a barrel, its highest level in 2015.
A spokesman for Libya's National Oil Corp. said over the weekend that it will stop pumping at all fields if authorities fail to contain attacks that endanger workers. Talks on Monday between Iraq's central authorities and the Kurdistan Regional Government over oil exports ended without agreement.
Wheat for May delivery climbed to a four-week high in Chicago after data showed Russian exports ground to a virtual halt last week. The country has begun taxing shipments in an effort to reduce domestic food prices.
Before it's here, it's on the Bloomberg Terminal.
LEARN MORE