HSBC Faces Regulator's Scrutiny Following Swiss Unit Tax Report
Suzi Ring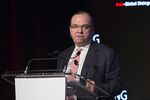 The U.K. Financial Conduct Authority is assessing HSBC Holdings Plc's internal practices after a report last week provided fresh details of how its Swiss unit helped customers avoid taxes.
The FCA is working with the bank and other authorities "to ensure that any questions this may raise in relation to any current practices and culture of HSBC are addressed," the regulator said in an e-mailed statement on Monday.
HSBC has come under political fire since the Washington-based International Consortium of Investigative Journalists published details showing how the London-based bank's Swiss unit handled accounts for tax evaders and criminals. Chief Executive Officer Stuart Gulliver offered his "sincerest apologies" in full-page advertisements published Sunday in several British newspapers.
"This has served to reinforce the importance of firms operating with the right culture across all of their operations," the FCA said.
HSBC is "fully committed to the exchange of information with relevant authorities and are actively pursuing measures that ensure clients are tax transparent," the bank said in an e-mailed statement. "We acknowledge and are accountable for past control failures."
The FCA isn't planning to open a formal inquiry and is looking at the matter as part of its supervision responsibilities, according to a person with knowledge of the situation, who asked not to be identified because the discussions are private.
The U.K. Serious Fraud Office is planning to meet with Her Majesty's Revenue & Customs to help with its investigation into HSBC's handling of Swiss accounts, people with knowledge of the situation said Thursday.
Sky News reported the FCA's interest in the case earlier.
Before it's here, it's on the Bloomberg Terminal.
LEARN MORE