Hot Flashes, Night Sweats Can Plague Women Seven Years or Longer
Nicole Ostrow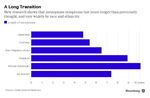 Women going through menopause may have hot flashes and night sweats that last for more than seven years, according to new research that debunks long-held theories that symptoms are mostly short-lived.
The study of women across the U.S. is the biggest examination of how long menopausal symptoms last, said the authors. Among the more than half of women who have frequent symptoms in mid-life, menopause lasts for 7.4 years on average. Symptoms can go on much longer for black women and Hispanic women, the research published Monday in JAMA Internal Medicine showed.
Menopause is the permanent end of menstruation that comes after the loss of ovarian activity, according to the American College of Obstetricians and Gynecologists. The average age of menopause in North America is 51 years. Previous estimates suggested menopause symptoms lasted six months to two years, the group said in a January 2014 Practice Bulletin.
"The duration of the symptoms is much longer than traditionally thought," said JoAnn Manson, chief of the Division of Preventive Medicine at Brigham and Women's Hospital in Boston, who wrote an accompanying editorial. "Many women have moderate-to-severe hot flashes, night sweats that interrupt sleep and adversely affect their ability to function and work and their social life. This is a real problem for many women."
About 80 percent of women experience menopausal symptoms and many say their hot flashes and night sweats are moderate to severe, according to the paper.
Night Sweats
Joanna Lyall, 46, said she started having night sweats about a year and a half ago. While the night sweats disrupt her sleep, she's trying to stay positive, just as she said her mother did.
"I know it's happening, it's bothersome, but I can't live in fear that I might be doing this for the next eight years or I would never sleep," Lyall, from Clemmons, North Carolina, said in an interview.
Researchers from Wake Forest Baptist Medical Center at Wake Forest University in Winston-Salem, North Carolina, analyzed data from the Study of Women's Health Across the Nation, which examined women transitioning to menopause and was conducted from 1996 through 2013. The findings included 1,449 women with frequent symptoms that occurred at least six days in the previous two weeks.
The length of menopausal symptoms aligned with when they started, the research found. Women who started getting symptoms while their periods were regular or hadn't disappeared completely had frequent hot flashes and night sweats that lasted more than 11 years on average. Women whose symptoms appeared after their final period had the shortest duration of symptoms, 3.4 years on average.
Variations
Black women's symptoms lasted the longest, a median of 10.1 years, followed by 8.9 years for Hispanic women. White, non-Hispanic women had symptoms for an average 6.5 years, while women of Chinese and Japanese heritage had the shortest time for symptoms -- 5.4 years and 4.8 years, the paper found.
Nancy Avis, the study's lead author and a professor in the Department of Social Sciences and Health Policy at Wake Forest School of Medicine, said more studies are needed to better understand why some women have menopausal symptoms for almost a decade while others don't. Research is also needed on alternative treatments for women as the symptoms go on for so long. She said the researchers will continue to follow the women.
Manson, who is also a professor at Harvard Medical School, said women who have hot flashes and night sweats should try lowering the thermostat, avoid warm beverages and spicy foods, do hypnosis and yoga, and stop smoking to see if that helps reduce symptoms.
Treatments
Beyond that, woman can try hormone-replacement therapies for a short time, or non-hormonal treatments such as Hisamitsu Pharmaceutical Co.'s Brisdelle, which was approved by the U.S. Food and Drug Administration in 2013 to treat hot flashes. Doctors also prescribe anti-depression drugs off-label to help ease symptoms, she said.
"There are many options for managing and treating hot flashes. Don't suffer with them," Manson said. "I don't always think it has to be a prescription medication. There are non-hormonal options. This is about women's quality of life and women's health."
Before it's here, it's on the Bloomberg Terminal.
LEARN MORE