Hedge Funds Turn Most Bullish on Brent Oil in Seven Months
Grant Smith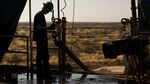 Hedge funds and other money managers' bets on Brent crude were the most bullish since July just days before prices rallied to a two-month high.
Money managers' net wagers on rising prices rose 13 percent to 158,974 contracts in the week ended Feb. 10, the highest since the early days of last year's oil slump on July 8, according to figures from the London-based ICE Futures Europe exchange. The change was driven by a reduction in bearish positions, rather than fresh bullish bets, signaling traders remain cautious that the price recovery will endure, according to Saxo Bank A/S.
Brent futures have climbed 9 percent since the period covered by the report amid speculation that production growth in the U.S. will slow. In response to the plunge in oil prices, which remain at about half their peak last year, drillers in the U.S. idled 33 percent of their rigs in the last 10 weeks, according to Baker Hughes Inc.
"Hedge funds managed to preempt a strong weekly performance," Ole Hansen, an analyst at Saxo Bank A/S in Oslo, said by e-mail. "It was all driven by short covering, which basically tells us that funds are still not convinced that this is the right time to go long."
U.S. Growth
Brent, used in pricing more than half the world's oil, climbed as much as 1.7 percent to $62.57 a barrel in London Monday, the highest since Dec. 22. The benchmark has gained 36 percent from an almost six-year low of $45.19 a barrel on Jan. 13.
Crude prices slumped in part because of the U.S. oil boom, driven by a combination of horizontal drilling and hydraulic fracturing, which has unlocked supplies from shale formations including the Permian and Eagle Ford in Texas and the Bakken in North Dakota. The decline in the number of rigs drilling for oil in the U.S. to the fewest since August 2011 is still not enough to halt production growth, according to Goldman Sachs Group Inc.
Lower oil prices may be needed to balance the market because U.S. output could still expand by 600,000 barrels a day in the fourth quarter compared with a year earlier, Goldman analysts Damien Courvalin and Raquel Ohana said in a note Monday. The Energy Information Administration forecast U.S. production will increase 7.8 percent to 9.3 million barrels a day this year, the most since 1972.
WTI Wagers
Speculators on West Texas Intermediate, the U.S. oil benchmark, were less successful. Hedge funds and other money managers decreased net-long positions in the contract by 2 percent to 203,696 contracts in the week to Feb. 10, U.S. Commodity Futures Trading Commission data show. Prices subsequently rallied as U.S. drillers idled rigs.
Brent has advanced more than WTI, which has rebounded 22 percent from its January low, because the European benchmark is more sensitive to global supply disruptions such as renewed violence in Libya, Saxo Bank's Hansen said.
Libya's state-run oil company warned that it would shut production at all fields if authorities in the divided nation fail to contain an escalation of attacks on facilities. The country's crude output fell to a seven-month low of 300,000 barrels a day in January, according to data compiled by Bloomberg.
Money managers cut bearish, or short positions on Brent by 19,883 contracts to 106,768 in the week to Feb. 10, and trimmed bullish wagers by 1,492 contracts to 265,742 lots.
Before it's here, it's on the Bloomberg Terminal.
LEARN MORE