Europe's Leaders Bridle at Netanyahu Call for Jewish Exodus
Patrick Donahue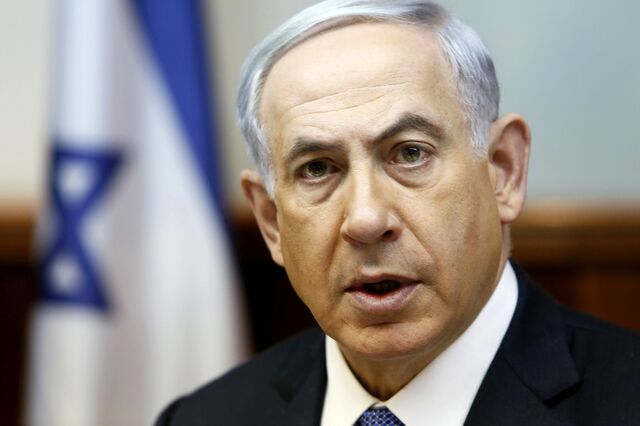 European leaders bridled at Israeli Prime Minister Benjamin Netanyahu's call for an exodus of Jews to Israel following a spate of antisemitic attacks, saying the focus should be on keeping Europe safe for Jewish communities.
"We are happy and grateful that Jewish life has returned to Germany," Chancellor Angela Merkel said in Berlin, two days after a synagogue guard in Copenhagen was among those killed in dual shootings that stunned Denmark. "We very much want to live together with Jews in Germany."
President Francois Hollande of France took exception to claims that Jews in France can't be safe. His prime minister, Manuel Valls, accused Netanyahu of exploiting acts of violence in Europe to boost his standing ahead of a March election.
"I can't allow things to be said in Israel that would lead one to think that Jews have no place in Europe and particularly France," Hollande said near Paris today after assailants vandalized a Jewish cemetery in northeastern France.
Netanyahu's revival of the Jewish immigration debate grated against European assurances that the region is safe for Jews and amid a jump in the number of departures to Israel. The number of immigrants to Israel from France last year doubled to about 7,000 from 2013, according to the Jewish Agency.
The Paris attacks on the Charlie Hebdo offices last month were followed by killings at a kosher supermarket, raising the specter of antisemitism tied to Islamist killings. Last year, European leaders including Merkel also condemned a resurgence in antisemitic incidents that emerged as part of protests against last year's war in the Gaza Strip.
Repeated Attacks
About 300 headstones were damaged on Sunday at the Jewish burial ground Sarre-Union near the German border, coinciding with the shooting near the Copenhagen synagogue. At about 500,000, France is home to Europe's largest Jewish community.
In 2012, a 22-year-old man -- Mohammed Merah -- killed three French soldiers, three Jewish children, and a teacher at a Jewish school, before being trapped and killed by police. In another attack last May, four people were killed by a gunman at the Jewish Museum of Brussels.
Assaults on Jews in Europe are expected to continue, Netanyahu said at a cabinet meeting in Jerusalem yesterday.
"Jews deserve protection in every country but we say to Jews, to our brothers and sisters: Israel is your home," the Israeli leader said. "We are preparing and calling for the absorption of mass immigration from Europe."
'No Solution'
A flight to Israel is "no solution" to fighting terror, Charlotte Knobloch, the head of the Munich Jewish community and former president of Central Council of Jews in Germany, said in an e-mailed statement. Terrorist attacks "threaten European democracy as a whole," she said.
Merkel, who last month reprised her condemnation of antisemitism in Germany at an event commemorating the 70th anniversary of the liberation of Auschwitz death camp, has placed anti-Jewish hatred alongside recent terror attacks.
The Paris attacks "reveal two of the greatest evils of our time: Islamist terrorism and antisemitism," Merkel said at the ceremony attended by Holocaust survivors in Berlin.
The German chancellor didn't offer a direct criticism when asked on Monday about Netanyahu's comments, though she said her focus would be to bolster security in Germany, where synagogues and Jewish cultural centers commonly are guarded by police.
"We will do everything to ensure the security of Jewish locations and the citizens of Jewish origin" in Germany, Merkel said at an event organized by her Christian Democratic party in the German capital.
Before it's here, it's on the Bloomberg Terminal.
LEARN MORE