Eurogroup to Greece: Your Move
The Eurogroup, for its part, will not renegotiate the program without an extension of the current program in place; Greece will not agree to an extension of the current program
by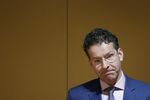 The abrupt ending to the Eurogroup meeting on Sunday evening in Brussels pointed to the fundamental differences between the two sides of the negotiations.
The Eurogroup, for its part, will not renegotiate the program without an extension of the current program in place. Greece will not agree to an extension of the current program.
Eurogroup chief Jeroen Dijsselbloem, speaking after the meeting, said that there is not enough time to renegotiate the program. Instead Greece must agree to an extension to the current bailout first, which would then allow time to explore flexibility in the Greek program.
Greece rejected this insistence on an extension of the bailout as "absurd" and "unacceptable."
That is where we stand on Sunday evening.
The Eurogroup will reconvene when Greece is ready to ask for an extension of the current program. 
There may be a temptation in Greek to wait out the Eurogroup, but this would be a risky strategy. The longer Greece waits, the worse things will get in its domestic economy. The stressed banking sector already relies on Emergency Liquidity Assistance (ELA) approved by the European Central Bank, which the ECB has increased by €5.4 billion ($6.13 billion) since it was introduced.
The ELA that is keeping Greek banks open could quickly turn into a sword of Damocles hanging over them because they depend on factors outside their control for it to continue. Failure of the Greek government to quickly reach agreement with the Eurogroup on a way forward, or an increase in the pace of withdrawal of deposits, would put the ECB in a position where it might feel forced to cut ELA off.
This would necessarily mean the introduction of capital controls in Greece. 
The problem for all sides is that the timing of that crunch point—if driven by Greek depositors—is out of everyone's hands. 
Before it's here, it's on the Bloomberg Terminal.
LEARN MORE