China Firms Replace Banks to Drive Hong Kong Rents: Real Estate
Michelle Yun and Vinicy Chan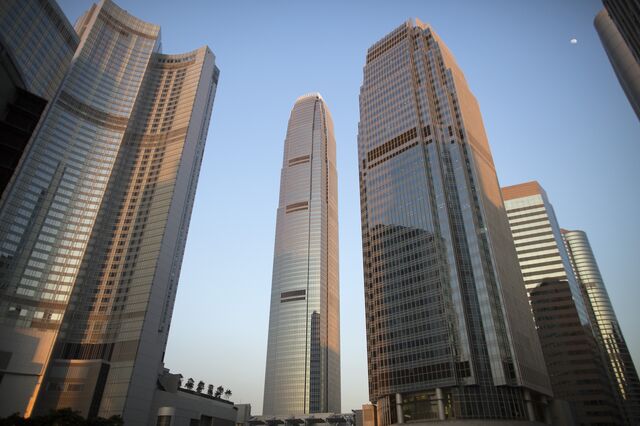 Chinese brokerages and asset management firms are underpinning Hong Kong office rents as the city cements its financial-market ties to the world's second-largest economy.
Prime office space leased by financial companies north of the border was 148,000 square feet last year, a 51 percent jump from 2013, according to data from realtor CBRE Group Inc. Industrial Securities Co., a brokerage based in Fuzhou city in eastern China, and Sino Life Insurance Co. are among those that have rented new offices in Hong Kong's Central business district in the last two quarters, CBRE said.
Chinese firms are expanding in the city as Hong Kong connected its stock exchange with Shanghai in November and is expected to replicate the link with Shenzhen's bourse later this year in a push by China to globalize its markets. They are also propping up the world's costliest office market after London as some foreign banks including Standard Chartered Plc and Barclays Plc scale back unprofitable businesses.
"Chinese financial services companies are eager to expand here because they see Hong Kong as a perfect springboard for their internationalization," Ricky Lau, the head of office leasing at Savills Plc in Hong Kong, said in an interview. "Hong Kong's stock market is robust and active. That also attracts Chinese brokerages."
Overall rents this year are expected to rise 5 percent, compared with 0.2 percent growth in 2014 and a 1.6 percent decline in 2013, according to CBRE.
More Links
Hong Kong's Chief Executive Leung Chun-ying said at a Feb. 9 forum he hopes the bourse link with Shenzhen will begin in the second half of this year. Like the Hong Kong-Shanghai connect, it will allow foreigners to invest in China's equities and Chinese investors a route to buy Hong Kong stocks.
"A lot of mainland banks and brokerages still don't have branches in Hong Kong, or they only make up a small portion of the business," said Marcos Chan, CBRE's head of Hong Kong research. "Those in securities trading and wealth management will gradually start to position themselves in Hong Kong" as links extend to other markets including commodities, he said.
China is also studying connecting its bond market with Hong Kong, the South China Morning Post reported on Feb. 10.
The average value of shares changing hands on the Hong Kong bourse climbed 18 percent to HK$72 billion ($9.3 billion) in the past 12 months from a year earlier, according to data compiled by Bloomberg.
Smaller Spaces
London's West End has the world's most expensive office rents at $274 a square foot a year, followed by $251 a square foot in Hong Kong's Central and $198 per square foot on Beijing's Finance Street, according to a CBRE survey.
While Chinese firms looking to establish Hong Kong offices are willing to pay a premium of 5 percent for a good location, according to Lau of Savills, they are opting for smaller spaces.
They are mostly seeking new offices under 10,000 square feet as vacancy rates in prime Central buildings remain low, according to Jones Lang LaSalle. They accounted for 28 percent of all new lettings in Central last year, the realtor said.
"The demand is healthy, but they're not scrambling for the space," said Paul Yien, regional director of markets at Jones Lang LaSalle. "They might renew and expand by another 3,000 to 4,000 square feet. It's not massive growth."
Industrial Securities rented a whole floor in the AIA Central building, while Shenzhen-based insurer Sino Life leased 6,200 square feet of net floor area in Two International Finance Centre, according to CBRE. Two IFC, the second-tallest skyscraper in the city, is home to the Hong Kong Monetary Authority and UBS Group AG.
Everbright, Haitong
China Re Asset Management Co., a unit of Beijing-based China Reinsurance Group Corp., leased 5,000 square foot at Three Exchange Square in Central, according to Savills.
Everbright Securities Co., the brokerage that's seeking to purchase Hong Kong-based Sun Hung Kai Financial Ltd., expanded its offices at Far East Finance Centre in the Admiralty district, paying as much as HK$80 a square foot, a person with knowledge of the transaction said. Average rents in Admiralty and Far East Finance Centre are HK$50 to HK$60 per square foot.
High rents are a concern for Haitong International Securities Group Ltd., which said it wants to hire some people dismissed by global banks.
"We will utilize our existing offices before considering expanding," spokeswoman Mimzy Si said by phone. "We could consider getting more space if the rent is attractive."
Global Banks
For now, the mainland firms are a boon for landlords as some multinational banks scale back operations or seek cheaper rents to cut costs.
Standard Chartered said last month it would cut 200 equities jobs, mostly in Asia. The bank, whose lease at Two IFC is coming due in July, has no plans to move from the building, a person familiar with the situation said. Joyce Li, a spokeswoman at the London-based bank, declined to comment.
Nomura Holdings Inc., which also cut jobs at its Asia equities division, renewed its lease at Two IFC though negotiated a lower rent, said another person with knowledge of the deal. Aaron Pan, a Nomura spokesman, declined to comment.
Barclays, the U.K.'s second-biggest bank by assets, started eliminating 100 jobs across its Asia-Pacific investment-banking and markets businesses in the middle of last year. Allister Fowler, a spokesman for Barclays, declined to comment on the bank's office lease.
"We're seeing individual cases of space being returned, but it's not a trend happening with every bank," said Jones Lang LaSalle's Yien. "With a low vacancy rate of 3.7 percent in Central, I don't see a huge impact on the market."
Wells Fargo & Co. is relocating from Central to Three Pacific Place, owned by Swire Properties Ltd., in the Wan Chai district, according to CBRE. German bank Commerzbank AG is moving to The Lee Gardens, owned by Hysan Development Co., in the Causeway Bay district, according to Savills.
Decentralized Locations
Royal Bank of Scotland Group Plc gave up half of its offices in Central and moved to the eastern district of Quarry Bay, people with knowledge of the matter said in August. RBS has firmed up plans to sell or wind down its Asian corporate banking business within months, a person familiar with the process said earlier this month.
The average monthly rent in Central as of the fourth quarter was HK$99.3 a square foot, compared with HK$59.9 in Wan Chai and HK$45.6 in Hong Kong's east, according to CBRE.
"Companies will continue to look for decentralized locations for cost savings," said Chan of CBRE. "If some space is returned on expiry or surrendered, increasing demand from mainland firms can backfill that space."
New supply this year is expected to be almost 2 million square feet, falling short of the average annual demand of 2.4 million square feet, according to Yien at Jones Lang LaSalle. Less than half of the new supply won't be available for lease, such as a building purchased by Citigroup Inc. last June for its own use, Yien said.
"Now we're seeing the mainland firms coming in, starting small; if business is good, they'll double the space," said Craig Shute, CBRE's senior managing director for Hong Kong, Macau and Taiwan. "Hong Kong is still the gateway for China as well as capital going from east to west."
Before it's here, it's on the Bloomberg Terminal.
LEARN MORE