Can Rick Perry Jump-Start His White House Hopes in Iowa?
The former Texas governor makes three Iowa hires ahead of a town hall in the state on Monday.
By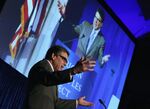 For former Texas Governor Rick Perry, hope springs eternal. 
Perry will return to Iowa on Monday, a state he hopes will help resurrect his prospects for becoming the Republican presidential nominee. Recent Iowa polls show Perry trailing his GOP rivals by double digits, and the Texan's political action committee RickPAC, has hired four political operatives from the Hawkeye State ahead of a town hall meeting Monday in Sioux City, the Des Moines Register reported. 
Robert Haus, Andy Swanson, Dane Nealson and Kip Murphy will all try and help propel Perry to the top of what is shaping up to be a crowded Republican field. 
In a press release, RickPAC said that Perry will "speak with Iowans and share his vision for creating prosperity and opportunity in America." 
Part of that vision includes electing someone, like Perry, with gubernatorial experience. 
"We took a chance with a young, articulate United States senator who didn't have any record, and I happen to think we're paying a price for it," Perry told an audience of New Hampshire activists at Portsmouth Country Club last week. 
Of course, Perry is just one many prospective Republican presidential candidates who can check the governor box on a job application. Jeb Bush, Chris Christie, Bobby Jindal, Scott Walker, Mike Huckabee and Mike Pence can also boast having spent time in that capacity. 
Last week, Perry disclosed that he had convinced more than 80 donors to help his PAC raise money, many of them prominent sports figures. Keeping pace with Jeb Bush's impressive fundraising operation has not been easy, however, especially with so many rivals tapping Perry's home state for donations.  
Some of those who saw Perry speak in New Hampshire last week were convinced that the former governor had upped his game from his 2012 campaign. 
"He's much better this time. I even told him!" Denise Pressinger, a business woman in Portsmouth told CNN.
Two weeks ago, however, just three percent of Iowa voters in a Bloomberg Politics/Des Moines Register poll said Perry was their first choice among Republican contenders. Last week, the news was even worse for Perry in New Hampshire, where a Bloomberg Politics/Saint Anselm poll showed Perry as the first choice of just one percent of those polled.