Bordeaux 2014 Wines Signal Recovery After Low-Yield 2013s
Guy Collins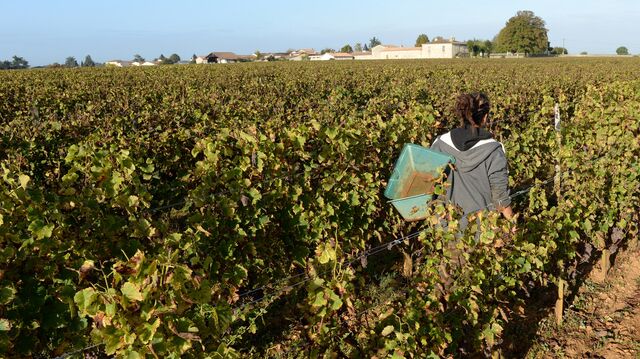 Wines from Bordeaux's 2014 grape harvest benefited from sunny picking conditions in September and are showing signs of improved quality after cool, wet weather cut yields in 2013, according to growers interviewed this month.
"2014 is encouraging," Gabriel Vialard, technical director of Chateau Haut Bailly in Pessac-Leognan, said at a trade event in Brussels Feb. 11. "It's a very smooth vintage."
The improved outlook for 2014 wines, due for presentation to merchants in early April, coincides with signs of renewed appetite for vintages from the earlier part of the past decade. The Liv-ex Fine Wine 50 Index tracking Bordeaux had its first back-to-back monthly gain in December and January since March 2013, when cooling demand from China sparked a price slide.
"We feel better about 2014," Matthieu Cuvelier, manager of the Clos Fourtet estate in Saint Emilion, said at the Brussels event. "There's structure, we're really happy, there's a richness. It was a lot of work."
Clos Fourtet, situated on a limestone plateau close to the center of the town of Saint Emilion, saw its yields drop below 20 hectoliters a hectare in 2013 following the adverse growing conditions from a recent average of about 35 hectoliters.
Grape Maturity
"We got back to 38 hectoliters for the 2014s, which is a good level," Cuvelier said, even as significant quantities of grapes which ripened unevenly had to be left out of the wine.
While Clos Fourtet produces 55,000 bottles on average a year for its merlot-dominated main wine from an 18.5-hectare (45.7-acre) vineyard, Haut Bailly makes 80,000 bottles of its flagship label from 30 hectares of vines.
"The cabernets are magnificent," Haut Bailly's Vialard said. Cabernet sauvignon accounts for 64 percent of grapes planted in its estate and cabernet franc 6 percent, with merlot making up the remaining 30 percent, a classic left-bank balance.
At Chateau Gruaud Larose, a Saint Julien estate north of Bordeaux ranked as a second growth in the 1855 classification, Sales Director David Launay said yields in 2014 recovered to 43 hectoliters a hectare after dropping as low as 27 hectoliters.
According to London wine merchant Fine + Rare, Haut Bailly 2013 is currently available at 383 pounds ($590) a case, compared with 398 pounds for the 2012, 503 pounds for the 2011 and 910 pounds for 2010.
Clos Fourtet is on sale for 434 pounds for the 2013, 467 pounds for the 2012, 503 pounds for the 2011 and 985 pounds for the 2010 at the same merchant.
Before it's here, it's on the Bloomberg Terminal.
LEARN MORE