ValueAct Said to Add Halliburton Stake to Push Baker Hughes
Beth Jinks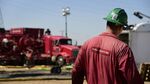 ValueAct Capital Management LP has amassed a new stake in Halliburton Co. alongside its activist holdings in Baker Hughes Inc. as the investor champions an agreed merger of the oilfield-services providers, a person with knowledge of the matter said.
ValueAct acquired about 30 million shares of Halliburton, said the person, who asked not to be identified because the investment isn't yet public. The stake would be about 3.5 percent of Halliburton's shares outstanding, according to data compiled by Bloomberg. The San Francisco-based firm disclosed in a Jan. 16 filing it owned about 22 million shares in Baker Hughes, a 5.1 percent stake.
Halliburton, the world's second-biggest provider of oilfield services, agreed to purchase No. 3 Baker Hughes in November in a $34.6 billion deal that will require asset sales to win antitrust approval. By buying into both sides, ValueAct is betting almost $3 billion that cost and tax savings will strengthen the combined company amid turmoil in the energy industry and position it to benefit from a recovery. The fund would be among the biggest owners of the new Halliburton.
Emily Mir, a spokeswoman for Halliburton, declined to comment when reached by e-mail.
Oil is recovering from a recent plunge to the lowest prices in almost six years as U.S. drillers cut the number of rigs in service to the fewest since August 2011.
Baker Hughes stockholders will receive 1.12 Halliburton shares plus $19 in cash for each share they own in the deal announced Nov. 17, which the companies expect to close by the end of this year.
Amid volatile energy prices, Baker Hughes shares have traded below the $78.62-a-share price when the Halliburton deal became public. Some investors worry the deal may falter or deflate in value if many assets need to be sold to win antitrust approval, analysts including Rob Desai at Edward Jones have said.
Combination's Impact
The combination of the companies would expand Halliburton's global portfolio, add technologies and help it better compete with bigger rival Schlumberger Ltd., while also jettisoning some competing business units.
The combined company will have as much as $8 billion excess cash that could be returned to shareholders, and also provide a cushion throughout the energy sector downturn, the person said. Halliburton's shale technologies mean it's well positioned to grow long term as energy investment shifts to North American shale assets from deep water exploration, the person said.
ValueAct, which manages about $17 billion, has served on at least 38 public company boards and typically seeks influence behind the scenes, often with a directorship.
Ubben Support
"We love the merger with Halliburton," ValueAct Chief Executive Officer Jeff Ubben said Jan. 16, when the firm's Baker Hughes stake was disclosed in an activist regulatory filing. "We want this deal to get done especially because of the oil price decline."
Merging with Halliburton "gets you through the downturn" helped by cost cutting where the businesses overlap, Ubben said at the time.
ValueAct has influenced changes at companies as diverse as Microsoft Corp., Valeant Pharmaceuticals International Inc. and Sara Lee Corp. Activist investors generally acquire equity stakes in publicly traded companies and agitate executives and directors to make changes they believe will boost shareholder returns.
The firm has had a busy few months. MSCI Inc., the securities index provider, said Jan. 30 it agreed to add three directors including ValueAct's Robert Hale in a settlement with the activist shareholder.
In December, Allison Transmission Holdings Inc. agreed to allow ValueAct partner Gregory Spivy to join its board in the future in a standstill deal with its biggest shareholder, and Armstrong World Industries Inc. added Spivy to its board in a separate deal with its second-largest shareholder.
In October, ValueAct returned to drugmaker Valeant's board, and revealed a new activist stake in Agrium Inc., the Canadian fertilizer and seeds retailer. In March, ValueAct President Mason Morfit joined Microsoft's board after an earlier cooperation pact with the world's largest software maker.
Before it's here, it's on the Bloomberg Terminal.
LEARN MORE