Teamsters Make Deal With CN, Prepare for Strike at CP
Ari Altstedter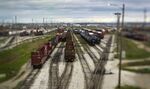 A union representing locomotive engineers reached a tentative contract agreement with Canada's largest railroad while calling on members to prepare for a strike against Canadian Pacific Railway Co., the second-largest.
Canadian National Railway Co. reached a tentative labor agreement with the Teamsters Canada Rail Conference union representing about 1,800 of the company's Canadian employees, according to a statement released Saturday.
Negotiations continued with 4,800 other employees represented by Unifor, a different union, Mark Hallman, a spokesman for the company, said in a statement. Unifor's CN employees, who include mechanics, clerks and truck drivers, haven't set a strike deadline.
At the same time, the Teamsters issued a notice to their 3,100 members at Canadian Pacific to prepare for a strike, saying there was no agreement yet with that company.
CP's negotiations with its locomotive engineers, conductors, trainmen and yardmen center around union demands that the company comply with agreements that require train crews to stop and rest after 10 hours of continuous work.
"We have no alternative but announce to our membership they should prepare themselves for the midnight deadline," the Teamsters said in a statement Saturday.
CP also faces a midnight strike deadline from its 1,800 workers represented by Unifor. Those employees handle safety inspections on all rail cars and locomotives, as well as maintenance and repairs.
While a strike would cost Calgary-based Canadian Pacific about 1 cent a day in per-share earnings, Chief Operating Officer Keith Creel has said the company wouldn't agree to labor's "unreasonable" demands. Creel and Chief Executive Officer Hunter Harrison are working on a four-year plan to boost annual revenue to C$10 billion ($8 billion) and more than double profit.
Before it's here, it's on the Bloomberg Terminal.
LEARN MORE