Latest Storm Lashes New England With Deep Snow, Winds
Tom Moroney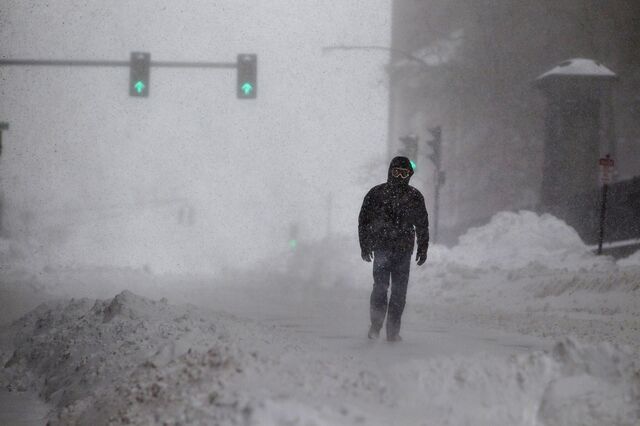 The latest in a series of winter storms to hit New England in recent weeks lashed Boston and much of the region early Sunday with blizzard winds and more snow than predicted.
Massachusetts Governor Charlie Baker said central and eastern Massachusetts and especially communities along the coast from Cape Cod north were hardest hit. Snow accumulation could reach 2 feet (61 centimeters) in some places, he said.
Boston will get 14 inches to 18 inches, said Bill Simpson of the National Weather Service in Taunton, Massachusetts. The snow will gradually taper by mid-afternoon, winds will pick up and the temperature will dive overnight to a wind chill of minus 20 degrees Fahrenheit (minus 29 Celsius), he said.
The storm halted Boston's subway and train service for the day, canceled flights in and out of Logan International Airport until at least midday and forced the shutdown of the Pilgrim Nuclear Power Station on the state's eastern coastline in Plymouth.
Boston Mayor Marty Walsh described the more than seven feet of snow his city has received in three weeks as historic during a morning press conference. Before the latest storm, Logan had received at least 69.2 inches (176 centimeters), the most ever in 30 days, according to Matthew Belk, a National Weather Service meteorologist in Taunton. The old record was 58.8 inches in the period ended Feb. 7, 1978.
Parking Ban
Boston's emergency parking ban will remain in effect until further notice, Walsh said. So far, 226 cars have been towed in this recent storm with another round of towing scheduled. City shelters are at overflow capacity, he said.
Walsh urged urged residents to stay inside until the storm abated, reminding pedestrians that they couldn't be seen by motorists in white-out conditions.
"I think we all want the spring to come," he said.
The highest snowfall totals as of Sunday morning were measured along the Massachusetts coast. The town of Ipswich on the state's North Shore received 20 inches and Acushnet to the south got 22 inches, according to the National Weather Service. The totals in central and eastern Massachusetts exceeded his expectations, Baker said.
Some scattered power outages were reported Sunday morning and officials were bracing for more later in the day as winds along the coast were expected to reach as high as 60 miles (97 kilometers) per hour in some coastal communities.
The storm drove north into New Hampshire and Maine, where winds and snow totals weren't as high as in Massachusetts. Portland, Maine, was reporting 2 inches by midmorning, according to the National Weather Service.
Before it's here, it's on the Bloomberg Terminal.
LEARN MORE